Veteran Voices: The Oral History Podcast
ABOUT THE PODCAST
Veteran Voices: The Oral History Podcast features conversations with those who tell veterans' stories in creative and interesting ways, such as oral historians, authors, poets, playwrights, and photographers.
This podcast is a production of The Social Voice Project, an innovative public media initiative dedicated to capturing, preserving and sharing the voices and stories of our time through the first-hand, authentic accounts of lived experiences we call oral histories. The podcast was formerly produced by the award-winning Veteran Voices of Pittsburgh Oral History Initiative.
EPISODES
---
ABOUT THE HOST
Kevin Farkas is an independent multimedia producer specializing in creative audiography, sound design, and audio engineering.  He has produced several audiobooks, radio dramas, live storytelling events, a podcast network, videos, as well as print and digital media publications.
Kevin also founded the nonprofit Veteran Voices of Pittsburgh Oral History Initiative—a leading regional multimedia project working closely with the Veterans Breakfast Club, StoryCorps, and the Senator John Heinz History Center/Smithsonian Institution to capture, preserve, and share the stories of veterans with a Western Pennsylvania connection.
---
Argot: Audio Short Stories Podcast
Argot: Audio Short Stories Podcast is a collection of creative story vignettes adapted from the Veteran Voices of Pittsburgh Oral History Initiative Collection. These audio short stories are inspired by actual events. Argot represents some of the most heartfelt moments from veterans' oral history interviews conducted throughout Western Pennsylvania.
EPISODES
---
OTHER WAYS TO FIND THE PODCAST
---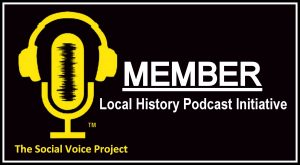 SUPPORT LOCAL HISTORY
Let's keep local history alive for future generations!  If you like our podcast, please help us continue this great educational program–for today and tomorrow.  Show your support by making a financial donation, underwriting the podcast, or advertising your business or service on the show.