Founded by Kevin Farkas in 2010, The Social Voice Project is an innovative public interest media project specializing in creative grass-roots media production and podcasting partnerships with community oriented individuals and organizations. We are dedicated to promoting public history, nonprofit initiatives, community and cultural projects, and public interest stories.
TSVP is a turnkey media producer handling all technical aspects of podcasting, including on-location, studio-quality recording; audio equipment; sound design and editing; and podcast publishing to to the internet.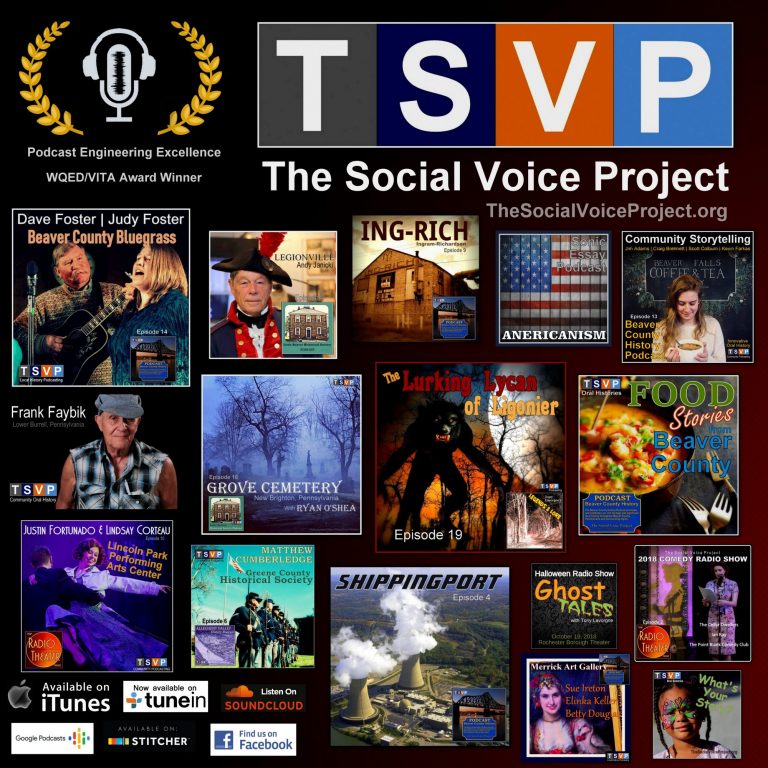 PROFESSIONAL ASSOCIATIONS
Our award-winning media producers have worked with many well known media professionals, organizations, and projects.
Alex Mena and Fiona Hall (producers of Crew 713: The Men Who Flew "The Irishman's Shanty"); APPRISE Program/Wesely Family Services of Western PA; Argot: Audio Short Stories Podcast; Beaver Area Heritage Foundation; Beaver County Historical Research and Landmarks Foundation; Beaver Falls Coffee & Tea Co.; Bob Dvorchak (legendary Pittsburgh sports writer, national journalist, war correspondent); Borough of West Mayfield; Butler Organization For Research of the Unexplained; Butler Paranormal Conference; Carnegie Free Library of Beaver Falls; Ceane O'Hanlon-Lincoln (author and awardee at Robert Redford's Sundance Institute); Chesapeake Area Paranormal; Chris Padgett (filmmaker); Chris Rolinson (filmmaker); City of Pittsburgh; Community College of Allegheny County; Conor Lamb for Congress Campaign; Daniel M. Cohen (film producer and author of Single Handed, the true story of Tibor "Teddy" Rubin, the only Holocaust survivor to have been awarded the Medal of Honor); Darlington Days Community Celebration Committee; Dutch Ridge Elementary School; East of Enon Bluegrass Musical Group; Fiona Amundsen (internationally renowned New Zealand artist and Fellow at the Neu Kirche Contemporary Art Center); Florent Plana (French veterans oral historian); Frank W. Wicks (Broadway playwright); Global War on Terror Memorial Foundation; Greene County Historical Society; Human City Films; Human City Creative; Inside Our Minds; Into the Wilds Podcast; Italian Heritage Day (Heinz History Center); Jared Enos (noted artist and colorizer of historic photographs); Jay Paisley (local author); Jefferson Regional Foundation; John F. Slater Funeral Home; Julian Gray Associates; Larry Bruno Foundation; Lawrence County Historical Society; Life Speaks Podcast; Listening Library: Beaver County; Little Beaver Historical Society; Longest War: The Post-9/11 Veterans Podcast; Lou Baczewski (author of Louch: A Simple Man's True Story of War, Survival, Life, and Legacy); Michael Kishbucher (author); MCA-TV; Merrick Art Gallery; National WWII Museum; No One Left Behind – Pittsburgh Chapter; Ohio Paranormal Investigation Team; Outsiders Paranormal; Pig Lady Festival; Pittsburgh Technical College; PodCamp Pittsburgh; Rachel Carson Homestead Association, Burtner House Restoration Society, Beaver Falls Coffee and Tea Company; 354th Mobile Public Affairs Detachment, US Army Reserves; R-ACT Theatre Productions Podcast; Rochester Area Heritage Society; Rochester Borough; Ruth Crocker (noted author of Those Who Remain: Remembrance and Reunion After War); Saltworks Theatre Company; Sebastian Junger (best selling New York Times author and Oscar nominated documentarian); Sha-nini George Foundation; Soldiers & Sailors Memorial Hall & Museum; Stefano Ballini (Italian filmmaker); StoryCorps (National Day of Listening); Team Red, White, and Blue (national veterans service organization); Teresa Funke (author of five books about World War II); The Allegheny-Kiski Valley Historical Society; The Allegheny Valley History Podcast; The Alle-Kiski Chronicle Podcast; The Average Addicts Podcast; The Beaver County History Podcast; The Bruderhof; The Buzz Podcast; The Genesis Collective;  The Heinz Foundation; The Little Beaver Historical Society Podcast; The Live Mike Podcast, with Mike Romigh; The Magical Coach Podcast; McKeesport Little Theatre; The Mission Continues (national veterans service organization); The MST Podcast; The Rochester Area Heritage Society Podcast; R-ACT Theatre Productions; Regis Bobonis, Rivertown Anthology: Beaver County Stories; RiverWise; Rustbelt Mayberry Photography; The Senator John Heinz History Center/Smithsonian Institution; The Sonic Essay Series Podcast; Storyburgh; The Uncomfortable Conversations Speaker Series Podcast; Tom Flynn (founder of Avenue of 444 Flags and War on Terror Memorials); Tony Lavorgne's Legends & Lore Podcast; Trails Ministries; TSVP Radio Theater Podcast; Veteran Voices of Pittsburgh Oral History Initiative; Veteran Voices: The Oral History Podcast; Veterans Affairs Administration; Veterans Breakfast Club; Vietnam Veterans of America, Chapter 862; Wendell Freeland (civil rights attorney, Tuskegee Airman); Winchester-Thurston School; WQED/PBS
WHERE WE'VE WORKED
We've created or worked on media projects at a variety of venues throughout Western Pennsylvania.
911th Airlift Wing (Moon Twp), Allegheny-Kisky Heritage Museum (Tarentum), Asbury Heights Retirement Community, Avenue of 444 Flags and War on Terror Memorials (Hermitage), B.F. Jones Memorial Library (Aliquippa), Beaver County Airport, Beaver County Maple Syrup Festival, Beaver Falls Coffee and Tea Company Big Knob Fair, Broadmore Assistant Living Home, Buhl Farm Park (Hermitage), Butler Paranormal Convention (Butler), Carnegie Free Library of Beaver Falls, Carnegie Library (East Liberty), Carrick Lit Club (Pgh), CCAC South Campus), Christ United Methodist Church (Bethel Park), Clarion, Pa, Comfort Inn & Conference Center (Penn Hills), Conemaugh Twp Volunteer Fire Dept. (Johnstown), Connellsville Canteen, Coraopolis United Methodist Church (Coraopolis), Cumberland Crossing Retirement Community, Darlington Township, Darlington Days Community Celebration, Devonshire of Mt. Lebanon Retirement Community, Duquesne University (Pgh), East End Cooperative Ministry; Father Ryan Arts Center (McKees Rocks), Fred M. Rogers Center (Latrobe), Georgetown Centre, GiannaVia's Restaurant (White Hall), Grace Lutheran Church Rochester, Grandview Cemetery, Grazie Restaurant (Wexford), Green County Historical Society (Waynesburg), Greenstone United Methodist Church, Greersburg Academy (Darlington), Heinz Field (Pgh), Heinz History Center (Pgh), Hile House (Canonsburg), Human Services Building (pgh), Latrobe Airport, Lawrence County Historical Society (New Castle), Lighthouse Point Retirement Community, MCA-TV Studios (Moon Twp), McCormick Dorman VFW Post 694, McKeesport Little Theatre, McKeesport Regional Heritage Center, Mellon Square, Memorial Park Presbyterian Church (Allison Park), Midway (Pa), Mt. Zion Evangelical Lutheran Church (Tionesta), National WWII Memorial, Oakmont Elks Lodge, Ohioville (Pa), Panera Bread (Robinson Twp), Patrick's Pub (Coraopolis), Pizza Roma (North Hills), Providence Point Retirement Community, Rachel Carson Homestead, Ramada by Wyndham Beaver Falls, Richland American Legion Post 849, Robert Morris University (Moon Twp), Rochester Area Historical Society Museum, Rochester Borough Theater Complex, Rusty Gold Brewing (Canonsburg), Salvatore's Banquets (South Hills), The Segriff Stage, Seven Oaks Country Club (Beaver), Shadow Lakes Country Club (Aliquippa), Smallman Galley (Pgh), Soldiers & Sailors Memorial Hall (Oakland), South Pointe Retirement Community, Spoonwood Brewery (Baldwin), St. Peter's Episcopal Church (Brentwood), The Atrium (Johnstown), The Bruderhof (Spring Valley), The Lamplighter (Delmont), The McCarl Coverlet Gallery (Latrobe), The Meadows (Washington County), The Red Ring (Pgh), Uncommon Grounds Cafe (Aliquippa), University of Pittsburgh, VA Pittsburgh, VFW Post 128 (Rochester), VFW Post 7505 (Mars), Vintage Senior Center (East Liberty), Voodoo Brewery (Homestead) , Wendell Freeland Law Firm (Pgh), West Haven Manor Nursing Home (Armstrong County), West Mayfield Borough, White Hall Public Library, Winchester-Thurston School
MENTIONS
The Social Voice Project, its producers, and various media projects have been mentioned in the following.
222 Paranormal Podcast; AKVNews; Beaver County Times; Create Your Life Story (Australia); Doing Oral History (3rd ed), by Donald Ritchie (Historian Emeritus of the United States Senate); Fostering Family History Services: A Guide for Librarians, Archivists, and Volunteers by Rhonda L. Clark, Nicole Wedemeyer Miller; KDKA Radio; Hibu Publishing (National Cover of the Year Award); Pittsburgh Post-Gazette; Military Press; Mt Lebanon Magazine; The Incline; The Journal of Veteran Studies; The Podcast Engineering Show; The Sharon Herald; The Union Edge Radio; Trib Total Media; USA Today; WTAE/ABC television; Your Beaver County