Bob Rivers
WWII Reenactor and Living Historian  
On episode 27 of  Veteran Voices: The Oral History Podcast, we have a conversation with WWII reenactor and living historian, Bob Rivers of Ellwood City, Pennsylvania.  Recorded May 11, 2016. Host: Kevin Farkas, with Bryan Chemini. Audiography: Kevin Farkas.
Podcast: Play in new window | Download | Embed
Choose where to listen and subscribe: Google Podcasts | Email | RSS | More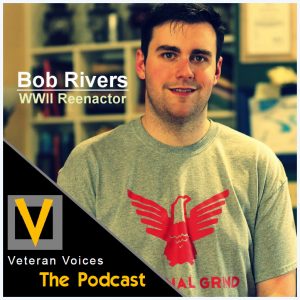 Bob Rivers is a civilian, but he carries a rifle and goes to combat on the weekends as a member of the 4th Infantry Division, also known as the Furious 4th WWII Living History Group.  He and his comrades are a special group of WWII enthusiasts called war reenactors.
More accurately, Bob and his fellow soldiers should be called, "living historians."  They—along with their authentic or historically accurate reproductions of uniforms, equipment, vehicles, and arms—bring WWII to life on mock battlefields throughout Pennsylvania and Ohio, including the renowned annual "D-Day" beachhead reenactment at Conneaut, Ohio.
Reenactors' portrayal of military history is not mere fantasy or adult play; war reenactors are serious public historians who would rather experience the past than read or write about it.  Reenactors bring history into three dimensions so that our contemporary senses can take in what others long ago experienced—the deafening roar of a canon, the acrid stench of gunpowder, the taste of sea rations, or pounding of a Higgins boat against sand and surf.
No scholarly book or Hollywood film can be as real, visceral, or as practically educational as WWII reenactments.  The power of performance is the allure that draws Bob Rivers and his fellow weekend warriors back to the 4th Division—to win or lose the fight, and to share stories about what it must have been like on the battlefield.
---
OTHER WAYS TO FIND THE PODCAST
---


---
SUPPORT LOCAL HISTORY
Let's keep local history alive for future generations!  If you like our podcast, please help us continue this great educational program–for today and tomorrow.  Show your support by making a financial donation, underwriting the podcast, or advertising your business or service on the show.