Valerie DeFazio-Vacula
The Italian Campaign: The Forgotten War
On episode 25 of Veteran Voices: The Oral History Podcast, we have a conversation with Valerie DeFazio-Vacula, author of The Italian Campaign: The Forgotten War – a true-life account of the experiences of Pittsburgh WWII veteran, Albert DeFazio.  Recorded March 19, 2016. Hosts: Kevin Farkas, Todd DePastino, with Bryan Chemini. Audiography: Kevin Farkas.
Podcast (veteran-voices-the-oral-history-podcast): Play in new window | Download | Embed
Choose where to listen and subscribe: Apple Podcasts | Google Podcasts | Email | RSS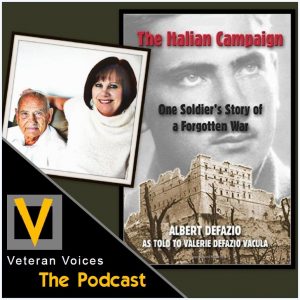 As school children, most Americans learned about Wold War II and the attack on Pearl Harbor, the D-Day invasion of Normandy, the raising of the flag on Iwo Jima. But few people know much about the Italian Campaign during that war. Of all the western fronts in World War II, the Italian campaign cost the most lives.
One of its survivors, Albert DeFazio, didn't like to talk about his experiences as an American soldier in World War II, but he was also concerned that so little was known about the suffering and death in Italy.
It took Albert decades to be able to describe his experiences in World War II – memories that still haunt him. Now, after seventy years, Albert DeFazio has told his story of the war he cannot forget.
The Italian Campaign: The Forgotten War is available through Barnes & Noble or by contacting the author at 412-704-7846.
---
OTHER WAYS TO FIND THE PODCAST
---


---
SUPPORT LOCAL HISTORY
Let's keep local history alive for future generations!  If you like our podcast, please help us continue this great educational program–for today and tomorrow.  Show your support by making a financial donation, underwriting the podcast, or advertising your business or service on the show.