Lou Baczewski
Louch: A Simple Man's True Story of War, Survival, Life, and Legacy  
On episode 26 of Veteran Voices: The Oral History Podcast, we have a conversation with Lou Baczewski, author of Louch: A Simple Man's True Story of War, Survival, Life, and Legacy. Recorded April 16, 2016. Hosts: Kevin Farkas, Todd DePastino, with Bryan Chemini. Audiography: Kevin Farkas.
Podcast: Play in new window | Download | Embed
Choose where to listen and subscribe: Google Podcasts | Email | RSS | More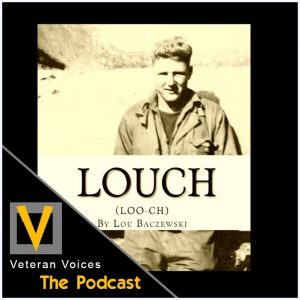 Even as a young boy, Lou Baczewski knew that his grandfather's service during WWII was troubling.  Louch rarely talked about it.  After all, the 3rd Armored Division—the Spearhead Division, as they were called—saw some of the worst combat action of the war.
Tank warfare across Europe was, by all accounts, brutal.  The Nazi SS Tank Divisions were the best.  Heavily armed and well trained.  The American armored divisions were hardly a match—at first.  But as time went on, the tank outfits, such as the one Lou's grandfather Louch was in, learned to fight back.
They had too.  It was kill or be killed in tanks, as the Hollywood movie Fury dramatizes so well. Most tank crews didn't survive.
But Louch survived five major European campaigns, battled "Hitler's own" SS division in the Battle of the Bulge, and liberated Dora-Mittlebau concentration camp.  Louch Baczewski was only one of a handful of men in his entire company to survive the war. His story is one that few will forget.
---
OTHER WAYS TO FIND THE PODCAST
---


---
SUPPORT LOCAL HISTORY
Let's keep local history alive for future generations!  If you like our podcast, please help us continue this great educational program–for today and tomorrow.  Show your support by making a financial donation, underwriting the podcast, or advertising your business or service on the show.