Tom Flynn | Avenue of 444 Flags & the War on Terror Memorial
On episode 33 of Veteran Voices: The Oral History Podcast, we have a conversation with Tom Flynn of Mercer County, and we talk about patriotism, remembering, and preserving stories through his Avenue of 444 Flags and War on Terror veterans memorials in Heritage, Pennsylvania.
Podcast (veteran-voices-the-oral-history-podcast): Play in new window | Download | Embed
Choose where to listen and subscribe: Apple Podcasts | Google Podcasts | Email | RSS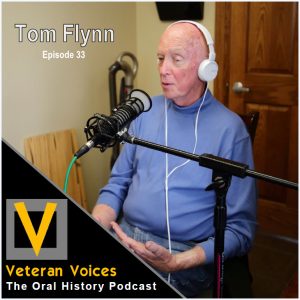 Tom Flynn grew up in Chicago, Illinois.  As a working class kid and the son of a steelworker, he joined the army after he could no longer pay for college.  While in the army he joined the famed 101st Airborne Division.  "It was all about discipline," Tom insists.  "I needed discipline in my life at that time and I found it in the army."
After the army, Tom eventually finished his degree and became a certified public accountant and businessman.  In the late 1970s, an investment in a funeral home and cemetery brought him to Hermitage, Pennsylvania, but he soon realized that Western Pa is where he wanted to call home.  It was blue collar, and it reminded him of home.
But it was during the Iranian hostage crisis of 1979 that Tom really made a mark on his adopted home.  In this podcast, we talk about the events that brought international fame to Hermitage.
Tom Flynn died in June 2018.
---
This episode was recorded October 2, 2016.  Host: Kevin Farkas.  Guest: Tom Flynn.  Audiography: Kevin Farkas/Bryan Chemini.  Music (available at Soundcloud.com): Adam Are You Free-by Pipe Choir Records, Zippo for Wisdom Tree ("Japanese Gal Riddim").  Available on YouTube.com: Joseph Zentis ("Avenue of 444 Flags"), WesternReservePBS  ("Hillcrest Memorial Park-Northeast Ohio Times").  ©Veteran Voices: The Oral History Podcast/The Social Voice Project, Inc.  All rights reserved.
---
OTHER WAYS TO FIND THE PODCAST
---


---
SUPPORT LOCAL HISTORY
Let's keep local history alive for future generations!  If you like our podcast, please help us continue this great educational program–for today and tomorrow.  Show your support by making a financial donation, underwriting the podcast, or advertising your business or service on the show.