Julia Parsons
Top Secret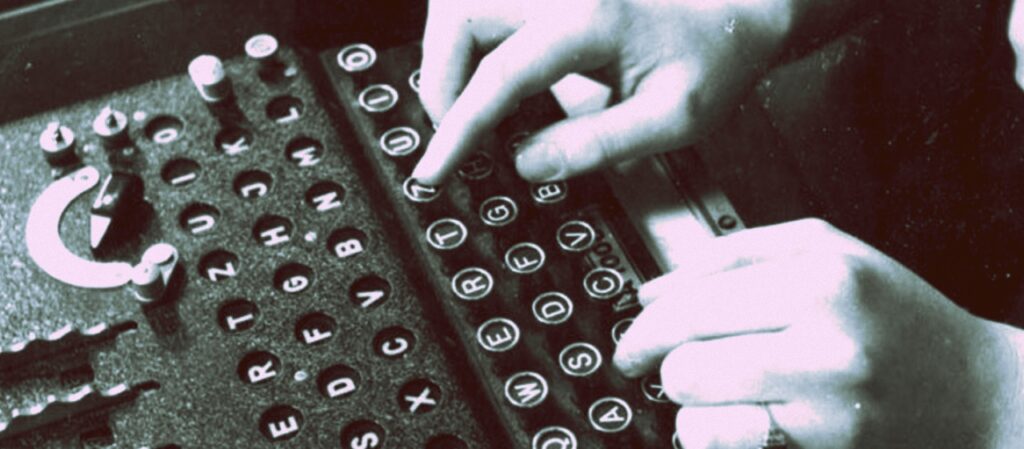 In this episode of the podcast, WWII Navy (WAVES) veteran Julia Parsons of Pittsburgh, Pennsylvania talks about her experiences as a top secret codebreaker during WWII and for decades later until the program was declassified in 1997.
Podcast (argot-the-audio-short-story-collection): Play in new window | Download | Embed
Choose where to listen and subscribe: Apple Podcasts | Google Podcasts | Email | RSS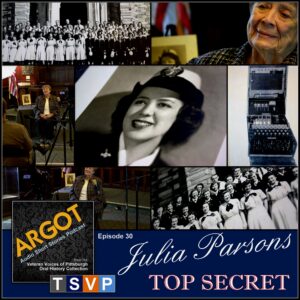 Julia Parsons volunteered for the Navy WAVES—"Women Accepted for Volunteer Emergency Service"—in 1942 after graduating from Carnegie Tech.  She studied cryptology at Naval Reserve Midshipmen's School at Smith College, and then she was ordered to Washington, D.C. for top secret duty.
She joined section SHARK, whose job it was to de-code German U-boat message traffic sent via the ENIGMA machine.  Deciphering the messages involved working with "Bombe," one of the first computers.  For most of the war, Julia knew the locations of German U-boats in the North Atlantic and, because of the personal nature of many of these messages, had intimate knowledge of enemy crews' lives.
After the war Julia lost her job as a cryptologist, which was one of the best and most exciting she ever had, although "I never spoke about what I did for many years.  Not even my husband knew what I did."  Julia finally broke her silence about her top-secret work in 1997.
In August 2020, CNN in partnership with Ancestry featured Julia Parsons (then 99-years old) in their online series dedicated to WWII veterans.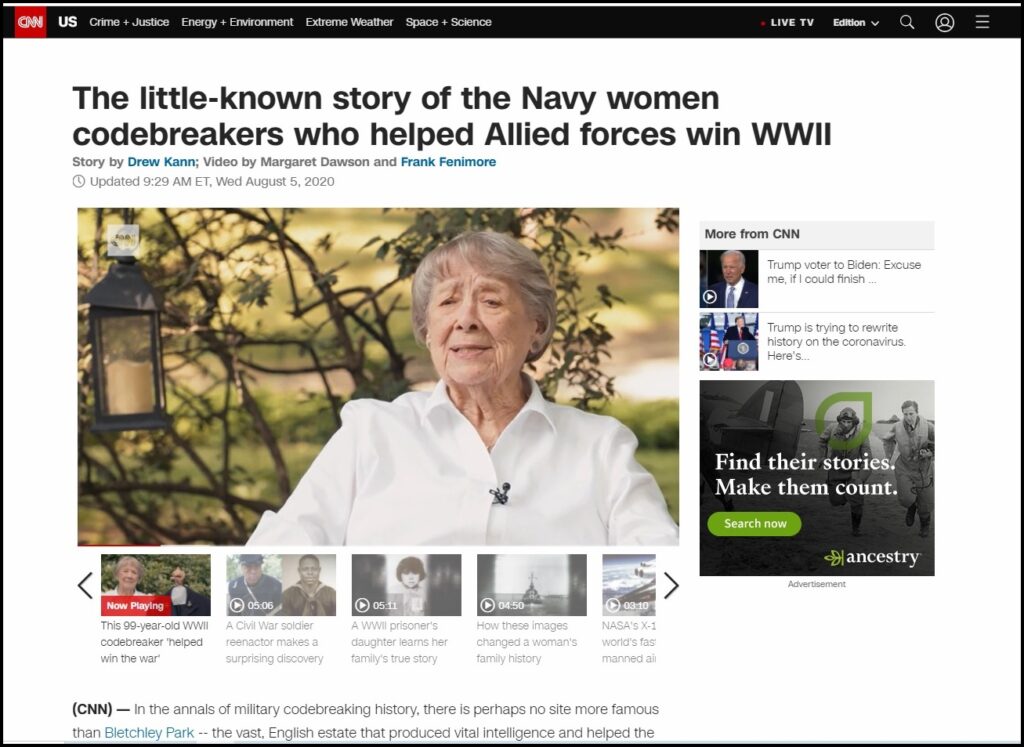 This audio short story is based on the original oral history interview of Julia Parsons recorded October 6, 2012 as part of TSVP's Veteran Voices of Pittsburgh Initiative at Soldiers and Sailors Memorial Hall & Museum, Pittsburgh, Pennsylvania.  © ℗ Argot: Audio Short Stories Podcast/The Social Voice Project, Inc.  All rights reserved.

SUPPORT LOCAL HISTORY
Let's keep local history alive for future generations!  If you like our podcast, please help us continue this great educational program–for today and tomorrow.  Show your support by making a financial donation, underwriting the podcast, or advertising your business or service on the show.