That's Loss
WWII Voices from Lighthouse Pointe
On this episode of Argot: Audio Short Stories from the Veteran Voices of Pittsburgh Oral History Collection, we hear the voices of six WWII veterans from Lighthouse Pointe independent living community in Pittsburgh, Pennsylvania–all of whom are no longer with us to share their stories and experiences.
Podcast (argot-the-audio-short-story-collection): Play in new window | Download | Embed
Choose where to listen and subscribe: Apple Podcasts | Google Podcasts | Email | RSS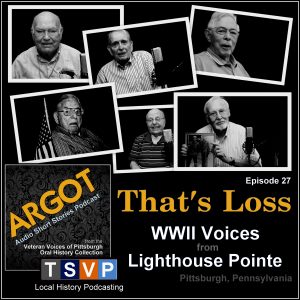 This sample from the oral history collection of WWII stories features the voices of (in order of appearance) Robert Riethmiller (US Army), Charles Kelley (US Army Air Corps), Paul Hanna (US Army), Jack Rominger (US Marines), William Fisher (US Navy), Francis Burket (US Marines).
The Lighthouse Pointe series captures the first-and historical experiences of WW II veterans.  In addition to talking about their war-time service, these veterans also share stories about the homefront and what it was like living in Pittsburgh during the war years, their thoughts about WW II, President Truman and the atomic, patriotism, and today's youth.
In June 2011, The Social Voice Project conducted a series of audio interviews with veterans living at the Lighthouse Pointe independent living community in O'Hara Township, Allegheny County.  Resident Emily Drake, herself a WW II veteran (WAC), was the originator of the project, and she assisted with the production of the interviews by scheduling the recording sessions.
  __________________________________________
This episode was produced July 25, 2019.  It is based on the oral history interviews with Robert Riethmiller, Charles Kelley, Paul Hanna, Jack Rominger, William Fisher, and Francis Burket recorded June 2011 at Lighthouse Pointe, O'Hare Township, Pennsylvania.  Audiography: Kevin Farkas. Music (available on SoundCloud.com): Tristan Scroggins ("Dipsomaniacal Dreams"), Choir+Cello ("Don't Lose Hope"), S.O.G. ("Delta"), Kaelan Gillick ("Ember of Battle"), The Naughty Step ("Malhamdale"), Naoya Sakamata ("Atmosphere Op2"). ©Argot: Audio Short Stories Podcast/The Social Voice Project, Inc.  All rights reserved.

SUPPORT LOCAL HISTORY
Let's keep local history alive for future generations!  If you like our podcast, please help us continue this great educational program–for today and tomorrow.  Show your support by making a financial donation, underwriting the podcast, or advertising your business or service on the show.