Alex Mena & Fiona Hall | Crew 713: The Men Who Flew The Irishman's Shanty
On episode 30 of Veteran Voices: The Oral History Podcast, we have a conversation with documentary filmmakers Alex Mena and Fiona Hall, producers of Crew 713: The Men Who Flew "The Irishman's Shanty."
Podcast (veteran-voices-the-oral-history-podcast): Play in new window | Download | Embed
Choose where to listen and subscribe: Apple Podcasts | Google Podcasts | Email | RSS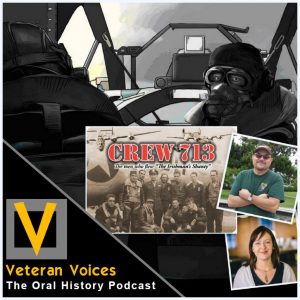 In May 1944, The Irishman's Shanty was hit hard by the Luftwaffe while on a vital mission to destroy oil refineries at Politz, Germany, one of the most heavily defended targets of WWII.
After action reports from fellow B-24s stated that the struggling ship, flown by the O'Sullivan Crew 713, dropped out of formation.  All Hell was breaking loose and it was chaotic up there.  She probably went down the reports stated.  After all, survival was unlikely on these missions, especially for the 492nd Bomb Group flying out of North Pickenham, England. They suffered more casualties than any other heavy bomber unit during WWII–or since.
But somehow Crew 713 did survive the Politz raid, including Nemesio Mena who was the radio operator aboard The Irishman's Shanty. Years later he would talk of surviving the Politz mission and other frightful experiences from his 30 missions over Europe.  He would also talk warmly about the kindness and endurance of the British people during his many months stationed in England.  Most of all, Nemesio would talk admirably about his fellow airmen—the brave young men of the 492nd Bomb Group.
Throughout the years, Nemesio's son Alex was listening to these stories.  And shortly before his father's death a few years ago, the Dallas-based filmmaker decided, with his father's blessing, to bring these amazing stories to life because they needed to be shared with the public.
And now, Alex Mena and producer Fiona Hall are nearing completion of Crew 713: The Men Who Flew "The Irishman's Shanty," a feature-length documentary about the O'Sullivan Crew and the 492nd Bomb Group—an innovative, media-rich project that presents veterans' first-hand accounts and interviews, old letters and diaries, scholarly analysis, and animated re-enactments of actual events underscored by a provocative modern soundtrack.  It's an important historical story from our shared past–creatively told for our time.
Note: Edward E. Picard of Carnegie, Pa was the right waist gunner on The Irishman's Shanty. Mr. Picard died in 2005, and so we are honored that this film will help tell his story for our local community.  This episode was recorded August 6, 2016. Host: Kevin Farkas.  Audiography: Kevin Farkas.
---
This episode was recorded August 06, 2016.  Host: Kevin Farkas.  Guests: Alex Mena, Fiona Hall.  Audiography: Kevin Farkas.  Music (available at Soundcloud.com): Dot Legacy (Like a Doll·), Mike Köhler (·Aries Beats·), Essa (·Ambient Loop·), Echo Bloom (Cedar Beach), Alexander White (·At the Core·), Heavy Metal Kings (·Crimson Valley·), CR Ensemble (·KG·), .  Bensound (·Badass· available at Bensound.com).  Other sound (available on YouTube.com): Shanty Films (·Crew713 Teaser Tape, US Dept. of War Training Film (·B24s Get Back·). ©Veteran Voices: The Oral History Podcast/The Social Voice Project, Inc. All rights reserved.
---
OTHER WAYS TO FIND THE PODCAST
---


---
SUPPORT LOCAL HISTORY
Let's keep local history alive for future generations!  If you like our podcast, please help us continue this great educational program–for today and tomorrow.  Show your support by making a financial donation, underwriting the podcast, or advertising your business or service on the show.