Fiona Amundsen | Arsenal of Democracy
On our November 2015 episode of Veteran Voices: The Oral History Podcast, we have a conversation with Fiona Amundsen about the construction and meaning of her art installation, Arsenal of Democracy.
Podcast: Play in new window | Download | Embed
Choose where to listen and subscribe: Google Podcasts | Email | RSS | More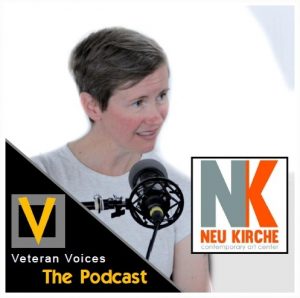 During her residency at Pittsburgh's Neu Kirche Contemporary Art Center, New Zealand's Fiona Amundsen will produce an artistic work based on research of Pittsburgh's steel industry and talks with local World War II veterans.  Her project, Arsenal of Democracy, will be exhibited in December 2015.
Lee Parker, director of the Neu Kirche Contemporary Art Center, says this about the work of Fiona Amundsen:
Amundsen's academic background in social anthropology has been fundamental in defining her thinking and approach to photographic representation and documentary practice. Working within photography and moving image, Amundsen's practice questions how specific cities, such as Pittsburgh, acknowledge their military histories, battles, and traumas within public and/or memorial sites.
 Recorded November 6, 2015 at the Neu Kirche Contemporary Art Center. Host: Kevin Farkas, Todd DePastino, with Bryan Chemini. Audiography: Kevin Farkas.  Music available at Soundcloud.com: Moist Appointment (Is It Really So Surprising); Zippo & Ujut ("Japanese Gal Riddim"); Essa ("Ambient Loop"). Available at Bensound.com: Bensound ("Cute," "Energy," "Happyrock"). Elvis Schoenberg ("Madison Avenue"); Roy Ashen ("Eclipse Instrumental"); Aryll Fae ("Uncertainty). Other sounds: Fiona Amundsen (Ben Kuroki interview, from "Honorable Son for 100,000 Spirits"); From Youtube: Jared Polin ("Photography Quote to Live By – Edward Weston"), The School of Life ("What is Art for?"), ehullquist ("What is Art?"), Bob Garlick ("What is Photography"), The Art of Photography ("What Is A Photograph?"), Photographic Review ("What is Conceptual Photography? [part 3]"), Sky Arts ("Is Photography An Art?"), B&H ("The Thinking Photographer_How to See a Photograph and Mentally Frame It As You Shoot").
---
OTHER WAYS TO FIND THE PODCAST
---


---
SUPPORT LOCAL HISTORY
Let's keep local history alive for future generations!  If you like our podcast, please help us continue this great educational program–for today and tomorrow.  Show your support by making a financial donation, underwriting the podcast, or advertising your business or service on the show.