The Shadow

in

Death House Rescue
On episode 14 of the TSVP Radio Theater Podcast, we present The Shadow in Death House Rescue, performed and recorded for broadcast at the McKeesport Little Theater in McKeesport, Pennsylvania.

Audio Only Version
Podcast (tsvp-radio-theater-podcast): Play in new window | Download | Embed
Choose where to listen and subscribe: Apple Podcasts | Google Podcasts | Spotify | Stitcher | Email | TuneIn | RSS
---
On episode 14 of the TSVP Radio Theater Podcast, we present The Shadow in Death House Rescue, performed and recorded for broadcast at the McKeesport Little Theater in McKeesport, Pennsylvania.
A man who's looking for a job mistakenly becomes involved with a bank robbery. He is later sentenced to death for a cop killing he didn't commit. The Shadow investigates and locates a missed piece of evidence, which helps free the wrongly accused man.
THE SHADOW
The Shadow is one of the most beloved dramatic characters of the Golden Age of Radio. He originally appeared on radio in July 1930 as the narrator of the Detective Story Hour. A year later, The Shadow appeared in the pulp mystery series, The Shadow Magazine.
Throughout the years, The Shadow has appeared in comic books, television shows, video games, and five feature films. But the most iconic role of The Shadow was played on radio by a young Orson Welles.
On September 26, 1937, The Shadow first appeared on radio as the main character with "the power to cloud men's minds so they cannot see him." That episode is "The Death House Rescue." It was the first time Lamont Cranston (The Shadow) introduced crime-fighting companion and love interest Margot Lane.
Originally spoken by actor Frank Readick but made famous by Orson Welles, the introductory line from the radio show is one of the most widely recognized lines of radio theater: "Who knows what evil lurks in the hearts of men? The Shadow knows!"
---
This episode was recorded October 11, 2020 at McKeesport Little Theater in McKeesport, Pa. Podcast executive producer: Kevin Farkas.  Audiography: Kevin Farkas. Stage performances directed by Kalee George. Featuring the voices of Krista Cantrell, Devin Marshall, Betsy Novotny, Dan Simon, Kurt Stridinger, and Bryan Chemini. Sound (available on YouTube): Piano Horror ("Eerie Horror Music - Lurking in the Shadows"), Avery Alexander ("Stealth Music – Shadow"), Ross Bugden ("♩♫ Epic Horror Synth Trailer Music ♪♬ - Something Wicked"), Z3r0 ("Flashback|Dark/Mystery"), Milton Charles ("Sonny Boy"), Will Osborne & His Orchestra ("That Foolish Feeling (1936)," "Organ Grinder's Swing (1936)"). Sound (available at Bensound.com): "Sadday." TSVP Radio Theater Podcast/The Social Voice Project.  All rights reserved.
---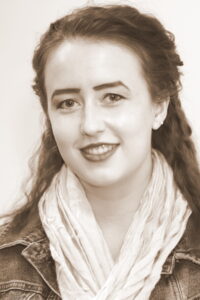 Krista Cantrell plays the roles of Grace Gordon and Lefty.
Krista is a Pittsburgh transfer from Syracuse NY, and has been involved in the Pittsburgh theatre scene since moving here March of the year 2019. She has been seen in performances with Poor Yorick's in Monroeville and with The Shadow Box Players at The Theatre Factory, and last Christmas right here at McKeesport Little Theatre with this very same group of wonderful performers, plus various other talents in their radio play production of It's a Wonderful Life. She is very happy to have worked with these lovely people again- no matter the unorthodox process due to these special worldly circumstances, and can't wait for you all to listen in!

Devin Marshall plays the role of Paul Gordon.
Devin is from Enola, Pennsylvania, is a graduate from Indiana University of Pennsylvania (IUP). His performance credits include She Kills Monsters (Steve the Mage), Boeing Boeing (Bernard), and Twelfth Night (Sebastian). Beyond his performance roles, he wrote and directed his show, My Zombie Boyfriend, which debuted in fall of 2017 as part of the Lively Arts at IUP. He currently resides in Pittsburgh, where he works as a teaching artist and touring actor for Saltworks Theatre Company. His Pittsburgh credits include She Kills Monsters with The Theatre Factory and It's a Wonderful Life: A Radio Play at McKeesport Little Theater.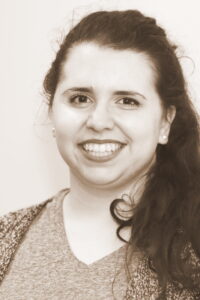 Betsy Novotny plays the roles of Show Host, Margot Lane, and the Bailiff.
Betsy is pleased as punch to be part of "The Shadow in Death House Rescue." She is a graduate of Clarion University, where she earned her BFA in Musical Theatre. Recent credits include Theatre Factory's "She Kills Monsters," McKeesport Little Theatre's "It's a Wonderful Life: A Live Radio Play," Poor Yorick's Players' productions of "The Comedy of Errors" (Dromio of Syracuse) and "The Merchant of Venice" (Nerissa), and Clarion University's "Little Shop of Horrors" (Audrey).

Dan Simon plays the roles of Lamont Cranston (The Shadow), Restaurant Owner, Cop, and Cell Mate.
Dan is a Point Breeze native who works as an IT professional, and is a weekend air personality on Y108-FM. Dan performed in last year's MLT production of "It's a Wonderful Life: A Live Radio Play," and is thrilled to be part of this classic radio drama!

Kurt Stridinger plays the roles of Red, Cop 2, Judge, Warden, and Mr. Barkley.
Kurt is an actor and playwright from Pittsburgh who is excited to be working on his first radio drama with this production of The Shadow. In fact, this is Kurt's first time working with McKeesport Little Theater. Kurt has also worked with Saltworks Theater company.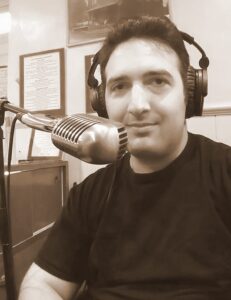 Bryan Chemini plays the role of Credits Announcer.
Bryan is an associate media producer with The Social Voice Project and an instructor of media at Pittsburgh Technical College.  He is also a cinematographer, known for Escape to Confluence (2021), 93 (2021) and Tributaries.

Kalee George directed our play.
Kalee is a local theatre artist who holds a BFA in Theatre Performance from Niagara University.  She is also a certified Basic Actor Combatant through Fight Directors Canada. She can be seen performing with Saltworks Theatre Co and various other companies throughout the Pittsburgh area including PSIP, New Hazlett CSA, and the McKeesport Little Theater. She wants to thank all the the talented actors who donated their time to keep local theatre alive, and Kevin Farkas for all of his talent and hard work. Find out more about Kalee at Kaleegeorge.com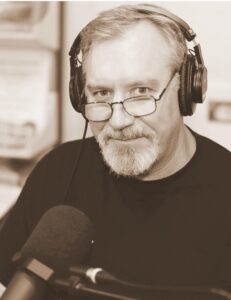 Kevin Farkas recorded, edited, and created the sound design for our play.
Kevin produces and hosts the TSVP Radio Theater Podcast, among many other podcasts for the TSVP Podcast Network.  He is also the founder and executive producer of The Social Voice Project and the award winning oral history project, Veteran Voices of Pittsburgh.  He's recorded, edited, and published more than a dozen radio theater productions, including MLT's

"It's a Wonderful Life: A Live Radio Play," R-ACT Theatre Productions' "Little Women" and "A Christmas Carol," TSVP's own recreation of "In the House Where I Was Born," and Frank Wicks' nationally acclaimed Civil War play for voices, "Soldier, Come Home."  
---
---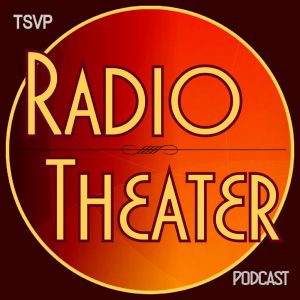 TSVP's Radio Theater Podcast presents classic, contemporary, and original imaginative audio productions, including recorded, staged, and live streamed performances before live audiences. 
In addition to showcasing performances, the podcast is dedicated to promoting and celebrating the craft of local theater.  

More Episodes of the TSVP Radio Theater Podcast
---
More Ways to Find the Podcast
---

Our Mission
The McKeesport Little Theater is a not-for-profit organization that delivers high quality theatrical productions and performing arts education to the residents of Southwestern Pennsylvania. The vision of McKeesport Little Theater is to be the premier destination in Western Pennsylvania for live entertainment, theater education, and cultural arts.
Our History
In 1960, an informal group known as the Mon-Yough Players, using the facilities of the McKeesport, YWCA, put on the production of Blythe Spirit, under the guidance of Mrs. Phyllis Braveman, a graduate of the Carnegie Tech School of Drama and the wife of a prominent McKeesport physician.
In 1962, under the aegis of Mrs. Braveman and the YWCA, a production of The Boy Friend, directed by Mr. William Buchanan, was performed using the facilities of the White Barn Theater in North Huntington, PA. In 1963, this same group had a production of The Pajama Game performed in the auditorium of McKeesport Vocational High School. The group, spearheaded by Mrs. Braveman and Mr. Buchanan, decided to regroup, naming the organization McKeesport Little Theater.
A church located at the corner of Penny and Jenny Lind Streets in downtown McKeesport, was acquired from attorney Robert Palkowitz in 1963 for the unheard of sum of $1.00, and the group began refitting the building into a playhouse with a fund drive and the ingenuity of members.
They carried theater seats from a nearby synagogue that was remodeled. The ceiling at the entrance/box office area had multicolored egg-carton squares glued on it, and the uneven cement floor had multi-colored 3′ squares of rug samples laid geometrically. A veritable Judy Garland/Mickey Rooney "let's do theater" dream had come true.
On June 29, 1965, McKeesport Little Theater was formally incorporated under the laws of the state of Pennsylvania, thereby instituting a 15 person Board of Directors with Mr. P. Joseph Gallagher as President. Official articles of incorporation and by-laws were instituted for the operation of the organization.
In the spring of 1972, after almost 10 seasons of producing four shows a year, a catastrophic fire reduced the playhouse to a shambles. (The fire was started in an abandoned, adjacent building, presumably by vagrants.) The Sound of Music was midway through its run.  The then president and director, Ms. Phyllis Gerber, in five days time, led the rebuilding of sets and costumes, transferring the cast to the fourth floor of the Elks Building in McKeesport, and completed the run on schedule. A closed school on Walnut Street in Versailles, PA, was offered by the McKeesport School District, as a new stage venue and the productions continued there for one year.
In the fall of 1974, under the presidency of Ms. Arlene Gallagher, the group purchased, for $75,000, a closed synagogue and adjacent dwelling located at the corner of Coursin Street and Bailey Avenue in McKeesport, PA., where they are still located. The Board of Directors started an era of growth, through fund-raising and extremely well-received productions, that was unparalleled in the Pittsburgh area. They converted the acquired building into a complete community theater facility that was equally commodious to performers as well as patrons.
By July 1983 the assets of the organization had increased to more than $300,000 and consisted of the playhouse and contents, production equipment and furniture, and the adjacent dwelling, which was being used as a facility for the caretakers of all the property.
More than 5,000 patrons each year contribute to the average gross receipts of $30,000. Numerous performers, young and old, cut their teeth on the MLT stage went on to careers or life-styles in the theater, which is an attestation and verification of the attainment of McKeesport Little Theater's goals.
After more than 50 years, this group is still a viable and important institution in the society of the Mon-Valley and with the support of its patrons and members, the McKeesport Little Theater will continue to be so for many years to come.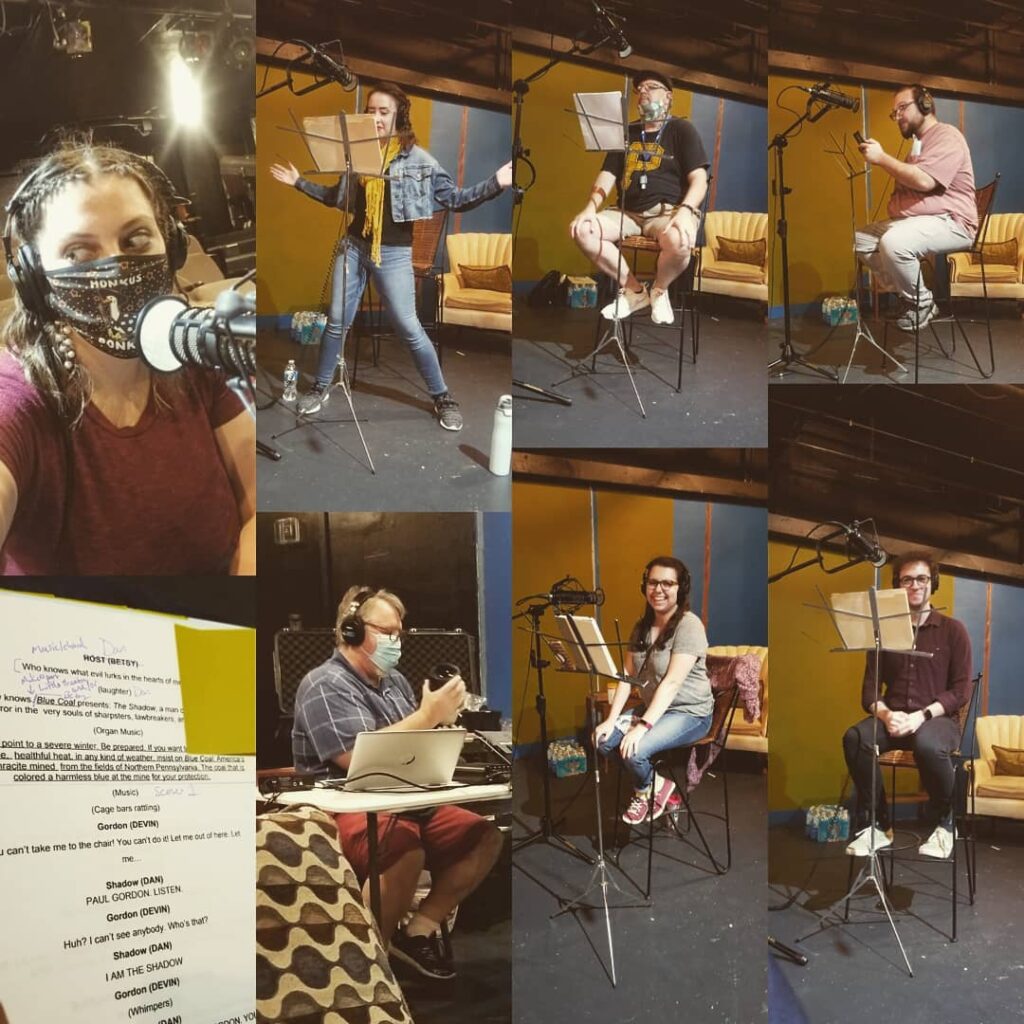 Behind the Scenes

Promo Teasers

Listen to the Original Show

Let's keep local podcasting alive!  If you like our podcast, please help us continue this great entertaining and educational program.  Show your support by making a financial donation, underwriting the podcast, or advertising your business or service on the show. Donate now or contact us about sponsorships and advertising.