R-ACT Live! | 2014 Annual Holiday Radio Show – Three Wise Men & A Child Is Born
Podcast (tsvp-radio-theater-podcast): Play in new window | Download | Embed
Choose where to listen and subscribe: Apple Podcasts | Google Podcasts | Spotify | Stitcher | Email | TuneIn | RSS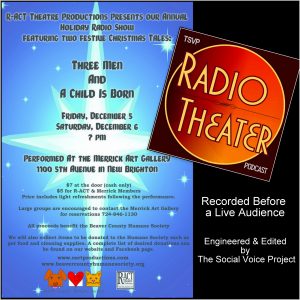 ABOUT THIS EPISODE
On episode 6 of the TSVP Radio Theater Podcast, we present R-ACT's 2014 Annual Holiday Radio Show, Three Men & A Child Is Born, performed live at the Merrick Art Gallery in New Brighton, Pennsylvania. Cast and crew: Shantih Bianco, Eric McAnallen, Suzanne Weber, Conrad Bianco, Nick Ellefson, Steve Walsh, Leanne Condron (director), Mark Greg Murdoch, Janet Lynn Hutchinson, Tom Boyce, Valerie Ann, Bill Bruce, Rosanne Castronovo Robinson (host). Live sound, recording, and performance editing by The Social Voice Project.
THREE MEN
Narrator/Announcer: Steve Walsh; Ballantine (Australian Soldier): Conrad Bianco; Gascoigne (French Soldier): Eric McAnallen; Melvin (American Soldier): Mark Murdoch; Stationmaster: Tom Boyce; Shepherd: Steve Walsh
Physician: Nick Ellefson
Three Men (a.k.a., Uninhabited or Christmas Story 1918), by Wyllis Cooper. Originally aired 1935. A tale about a Christmas from the last war. That means World War 1. A train comes to a halt at a railroad station in France. Both Austrailian and French soldiers go on leave for the holidays. They compare notes on the similarities of each other's armies, and the common experiences they have faced. They are joined by a American troop who is black. The three diverse troops enjoy moments of solidarity and marvel at the far reaches they had come from to be in this place together. In the post war days, the three carry souvenirs in their packs, and marvel at the stars. They turn in and dream as the train rushes through the night. Their deja vu at meeting before is explained as we peek into their dream of three other travellers who were bearing gifts, and following the star. A dramatization of the legend of the three wisemen ensues. Legend, because little is known about the wise men from scripture, and nearly all of the tale here is from tradition that surrounds their part in the Christmas story. As the wise men find the Christ child, the three soldiers awaken and compare notes about the dream they all seemed to have had.
A CHILD IS BORN
Narrator/Announcer: Rosanne Robinson; Innkeeper: Tom Boyce; Innkeeper's Wife: Shantih Bianco; Sarah: Valerie Boyce; Leah: Janet Hutchinson; Soldier: Nick Ellefson; Prefect: Mark Murdoch; Joseph: Steve Walsh; Shepherd: Nick Ellefson; Dismas: Eric McAnallen; King: Eric McAnallen
A Child is Born, by Stephen Vincent Benet. Originally aired 1942. A poetic Christmas drama in one act as part of the anthology radio program Cavalcade of America. Starred Alfred Lunt and Lynn Fontanne, later on television with Gene Lockhart and Fay Bainter. Written in rhyming verse, the play relates the story of the birth of Christ through the eyes of an innkeeper and his wife. The drama was presented on television many times during the Golden Age of Television, on such anthologies as Actors Studio, Lux Video Theatre, General Electric Theater, and Kraft Television Theatre. Not seen on American television since 1956.
This episode was recorded live on December 6, 2014 at Merrick Art Gallery, New Brighton, Pennsylvania. Audiography: Kevin Farkas/The Social Voice Project. Host: Rosanne Castronovo Robinson.  Featuring cast and crew: Shantih Bianco, Eric McAnallen, Suzanne Weber, Conrad Bianco, Nick Ellefson, Steve Walsh, Leanne Condron (director), Mark Greg Murdoch, Janet Lynn Hutchinson, Tom Boyce, Valerie Ann, Bill Bruce. 
---
ABOUT THE PODCAST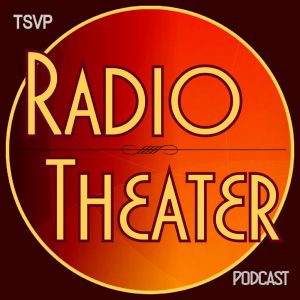 TSVP's Radio Theater Podcast presents classic, contemporary, and original imaginative audio productions, including recorded, staged, and live streamed performances before live audiences.  In addition to showcasing performances, the podcast is dedicated to promoting and celebrating the craft of local theater.  In 2018, The Social Voice Project partnered with the Merrick Art Gallery and the Rochester Area Heritage Society to bring three radio-styled audio performances to Beaver County.
---
OTHER WAYS TO FIND THE PODCAST

---
SUPPORT LOCAL PODCASTING
Let's keep local podcasting alive!  If you like our podcast, please help us continue this great entertaining and educational program.  Show your support by making a financial donation, underwriting the podcast, or advertising your business or service on the show. Donate now or contact us about sponsorships and advertising.