Community Conversations Series
Doing Local History in Beaver County
During the COVID-19 Pandemic
USE HEADPHONES FOR BEST LISTENING
Podcast: Play in new window | Download | Embed
Choose where to listen and subscribe: Google Podcasts | Email | RSS | More
On episode 3 of the Listening Library: Beaver County Podcast, we continue our Community Conversations Series by talking about the necessity of capturing, preserving, and sharing local history during the COVID-19 pandemic with prominent Beaver County public historians Dave Holoweiko, Brenda and Roger Applegate, Lauraly Burnecke, Ron Main, Brady Crytzer, and Aaron Cowan.
In our conversation we ask:
What is the history of pandemics in Beaver County, and what lessons can we learn to help us understand and endure today's coronavirus pandemic?
How are local historians in Beaver County connecting with their communities and maintaining public outreach?
In what ways are local historians in Beaver County capturing and preserving current events in their communities?
What are the most pressing needs of local history organizations and how can the public help?

These stories will be archived with the Listening Library: Beaver County – a special community multimedia collaborative project that captures, preserves, and shares the voices and stories of our time.
This episode was recorded April 21, 2020 via Zoom internet conferencing in Beaver County, Pennsylvania.  Host: Kevin Farkas. Guests: Dave Holoweiko, Brenda and Roger Applegate, Lauraly Burnecke, Ron Main, Brady Crytzer, and Aaron Cowan. Audiography: Kevin Farkas. Music (available on SoundCloud.com): DelayLlama ("B"), Pipe Choir Records ("Adam Are You Free"), "Acoustic Instrumental."  Other sounds (available on YouTube.com): Universal Nostalgia ("Vicks VapoRub, 1960s"), TEYL Channel ("TEYL – Keep Listening Active"), Nurse Killam ("Shut up and Listen – Make the world a better place!"), Bushfire Press ("Listening Room – Liberty Bell March music appreciation lesson"), ICNA ("Listening to People's Voices – A Must for Unity by Naeem Baig | ICNA-MAS Convention 2018"). Other sounds (available on the LLBC Podcast): What is History? Montage, Beaver County History Podcast, Episode 11 ("Brenda Applegate: Beaver County History Coalition"). Herb Bailey Poetry, LLBC Podcast, Episode 01 ("This. Is. My. Story."). ©LLBC Podcast/ Listening Library: Beaver County, The Social Voice Project.  All rights reserved.
---
COMMUNITY VOICES
Dave Holoweiko is a long-time volunteer and board member of the Little Beaver Historical Society, located in Darlington, Pennsylvania. Since 1962, LBHS's mission has been to "maintain, preserve, and restore the historical facts and material of the area, and to seek out historical sites of interest, and mark the same for the public and historical purposes." The museum manages five historic buildings, including the famed Greesburg Academy, and it also has a deep connection to local Civil War history and prehistoric artifacts.
---
Brenda & Roger Applegate are long-time public historians and researchers with the Beaver County Historical Research & Landmarks Foundation, located in the 1826 Captain William Vicary Mansion, Freedom, Pennsylvania.  The Foundation exists to research, collect and archive local history and artifacts, recognize Beaver County landmarks and educate the local and national audience via instructional programs, reference materials, publications, referrals and special events.
---
Lauraly Burnecke is president of the Beaver County Genealogy and History Center, located in Beaver, Pennsylvania.  Founded in 1971 by the Beaver County Commissioners, Carnegie Free Library of Beaver Falls and the Beaver Falls Historical Society, it's mission is to provide an archival site for study, reference, research and the preservation of Beaver County documents and books, both historical and genealogical.  The center provides aid and encouragement to the public in their historical research and genealogical pursuits, and encourages the preservation of public and private records, genealogical and cemetery data pertaining to Beaver County.
Listen to Lauraly Burnecke talk about Documenting the coronavirus pandemic in Beaver County on WESA's The Confluence
---
Ron Main is chair of the board of the Larry Bruno Foundation, located in Beaver Falls, Pennsylvania. The Foundation manages a Hall of Achievement and History center, provides scholarships to students, and promotes the wisdom and successful attributes of coaching with the community as a model for achievement.  LBF's current focus is promoting the "Seven Attributes of the Magical Coach" (management, reverence, discipline, integrity, teamwork, leadership, and communication) and to develop a curriculum to deliver the knowledge needed to build a new and improved culture for our community.
---
Brady Crytzer teaches history at Robert Morris University and the Community College of Beaver County. He is the recipient of the Donald S. Kelly and Donna J. McKee Awards for outstanding scholarship in the discipline of history. A specialist in imperialism in North America, he is the author of a number of books, including War in the Peaceable Kingdom: The Kittanning Raid of 1756 and Hessians: Rebels, Mercenaries, and the War for British North America. He is also the host of Dispatches: The Podcast of the Journal of the American Revolution.
---
Aaron Cowan a historian of US urban and environmental history at Slippery Rock University. As a public historian and educator, he works with students to document and interpret the history of Western Pennsylvania. He is also founder and co-director of the Stone House Center for Public Humanities (stonehouseCPH.org), an innovative initiative that seeks to build partnerships between university and community that expand public appreciation of the region. Aaron is the author of A Nice Place to Visit: Tourism and Urban Revitalization in the Postwar Rustbelt, which examines the rise of tourism as a revitalization strategy in struggling "Rustbelt" cities.  In response to the pandemic, Aaron co-founded Shared Voices, Shared Experiences, a rapid-response archive project aimed at collecting, preserving and sharing experiences of the COVID-19 pandemic in the lives of everyone connected to Slippery Rock University and the surrounding communities.
---

LLBC PODCAST
The LLBC Podcast is a special audio project produced by The Social Voice Project for the Listening Library: Beaver County, a multimedia collaborative and developing archive of recorded stories, conversations, and photographs that explore, share, and reveal Beaver County's historic heritage, social diversity, creativity, environmental richness, and community spirit.
---
LISTENING LIBRARY: BEAVER COUNTY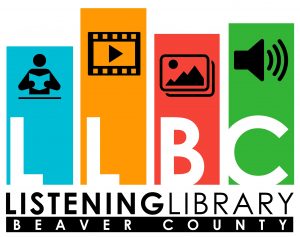 The Listening Library: Beaver County is a collaboratively produced multimedia archive of stories, conversations, and photographs that explore, share and reveal Beaver County's historic heritage, social diversity, creativity, environmental richness, and community spirit.
LLBC tells stories that challenge community stereotypes of people and places; celebrate the dignity and value of individuals by raising up Beaver County voices and visions; support communities' efforts to achieve justice and equity and solve their own problems in their own ways, and raise up voices that are unheard or overlooked.
---
More Community Podcasting

Let's keep community podcasting alive!  If you like this podcast, please help us continue this great entertaining and educational program.  Show your support by making a financial donation, underwriting the podcast, or advertising your business or service on the show. Donate now or contact us about sponsorships and advertising.