Stories of Struggle and Survival
Never doubt that a small group of thoughtful, committed, citizens can change the world. Indeed, it is the only thing that ever has. ~Margaret Mead
Podcast: Play in new window | Download | Embed
Choose where to listen and subscribe: Google Podcasts | Email | RSS | More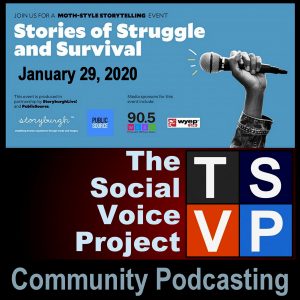 On January 29, 2020, Storyburgh hosted a moth-style storytelling event at the East End Cooperative Ministry with the theme, "Stories of Struggle and Survival." As part of its community podcasting initiative, The Social Voice Project recorded the event and presents it here in its entirety.
"Stories of Struggle and Survival" featured local storytellers, compelling narratives, and showcased the power of human spirit.  Pamela Monk and Kelly Mariska will host and Matthew Petronko will be performing musician.  Most of the five storytellers have experienced and/or are working in low wage/poverty/homelessness space:
Rev. Kellie Wild
For more than 24 years, Rev. Kellie Wild has worked in senior management positions to serve people living in poverty, including people who are experiencing homelessness. Currently serving as director for the IMPACTS program at East End Cooperative Ministry, Rev. Kellie's wide ranging career has included physical therapy and law. Her volunteer work has included service on the boards of Church Union, Foundation of HOPE, and Three Rivers Walk to Emmaus; the advisory board of the Seminary's Metro-Urban Institute; and various committees of the Western Pennsylvania Annual Conference of the UMC. Most recently, Rev. Kellie received the Fred McFeely Roger's Award for Creative Ministry from Pittsburgh Theological Seminary.
Kess Ballentine
Kess Ballentine is a PhD candidate in the School of Social Work at the University of Pittsburgh. She has worked with children and families in a variety of capacities, including as an elementary school teacher, community program developer, and researcher. She currently works on the Pittsburgh Wage Study focusing on the interactions of work, poverty, and parenting. Her dissertation examines how parents navigate the complex terrain of home, work, school, and their personal parenting values when working jobs that have been documented to create barriers to parenting.
Sharlene Dominick
Her crossroads came at 21 when Sharlene Dominick met the Lord. The Lord met her in rehab. Walked with her in the streets during homelessness, equipped her in crack houses and ministered to her in jail! Clean since 2-2-1998, she is blessed with a wonderful marriage of almost 14 years and delightful children ages 12-27. She's earned a BS in Human Services and MSOL (Master's of Science in Organizational Leadership) from Geneva College. She is a published author of three devotionals (I Love Jesus, But I'm a Mess; My Pain Fuels My Purpose; and Faith & Recovery; It's All Good). She has worked in Ministry/ Human Service field with many special populations (addicted women, adjudicated and addicted youth, homeless youth and young adults, Family Based Therapy and Urban ministry) for 20 years.
Sarah Rashmee Souri
Sarah Rashmee Souri is a psychotherapist, storyteller, musician, and speaker. She has her own psychotherapy private practice in the north hills area of Pittsburgh (Souri Counseling Solutions). Sarah loves helping others find their voice through the art of public speaking, and she is a big believer in the therapeutic power of storytelling!
Meg St-Esprit
Meg St-Esprit, M. Ed. is a freelance journalist based in Bellevue. With a background in education and human services, she has turned her career towards using the written word to highlight issues she is passionate about. Locally she has written for PublicSource, Storyburgh, Niche.com, and the Pittsburgh Post-Gazette. Her work has been featured nationally in publications such as The New York Times, The Atlantic, and the Washington Post. She has a passion for advocating for housing justice, low wage earners, and educational equity. As a parent of four young kids herself, she also enjoys connecting with parents through writing about the struggles, hilarity, and joys of raising children. Find her work at www.megstesprit.com or follow her on Twitter @megstesprit.
TSVP Community Podcasts presents a very special episode of community storytelling produced by Storyburgh.  "Stories of Struggle and Survival" presents compelling narratives and showcases the power of human spirit.  The event features the voices and stories of hosts Pamela Monk and Kelly Mariska, and speakers Rev. Kellie Wild, Kess Ballentine, Sharlene Dominick, Sarah Rashmee Souri, and Meg St-Esprit.  It also features the music of Matthew Petronko and Aaron LeWinter. This episode was recorded live on January 29, 2020 at the East End Cooperative Ministry in Pittsburgh, Pennsylvania.
---

Storyburgh is a not for profit community storytelling platform that 1) Give voice to marginalized populations by telling their underreported stories, and 2) Enable organizational stakeholders to visualize and understand the causes they serve.  After a couple of years conceptualizing and with the help of Launch Hilltop: Impact Incubator, a program of New Sun Rising, Storyburgh was officially born on November 15, 2015.  The main idea is to converge journalism, social activism, workforce utilization, and technology to harness synergy among mission-driven organizations through collaboration, transparency and democratization of curatorial / editorial process of community stories. 
---


SUPPORT COMMUNITY PODCASTING
Let's keep community podcasting alive!  If you like this podcast, please help us continue this great entertaining and educational program.  Show your support by making a financial donation, underwriting the podcast, or advertising your business or service on the show. Donate now or contact us about sponsorships and advertising.