Larry Bruno Foundation 
Mike DeChellis | Close to Home
Podcast (tmc-podcast): Play in new window | Download | Embed
Choose where to listen and subscribe: Apple Podcasts | Google Podcasts | Stitcher | Email | RSS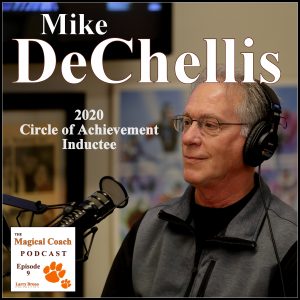 On episode 9 of The Magical Coach Podcast, Rick Mancini talks with legendary Beaver County athlete, coach, and educator Mike DeChellis about growing up in Beaver Falls, the importance of sports, and receiving life changing guidance from the many coaches he played under, including Larry Bruno. Mike is a 2020 inductee into the Larry Bruno Foundation Circle of Achievement.
The Magical Coach Podcast is hosted by the Larry Bruno Foundation and features stories and community profiles of great coaches and student athletes.  For more, visit The Magical Coach website.
_______________________________________________________________________________
This episode was recorded February 8, 2020 at the Larry Bruno Hall of Achievement in the Carnegie Library of Beaver Falls, in Beaver Falls, Pennsylvania. Producer and audiography: Kevin Farkas.  Music (available on SoundCloud.com): David Hyde ("Acoustic Folk Instrumental"), "Rising B."  Available on YouTube.com: Ghost FX ("Trumpets"), Riot ("Level Plane"). Other sounds (Available at The Social Voice Project): Episode 08 of The Magical Coach Podcast ("Joe Namath speech at the 2019 Larry Bruno Foundation Hall of Achievement Ceremonies").  ©The Magical Coach Podcast/The Larry Bruno Foundation. All rights reserved.

OTHER WAYS TO FIND THE PODCAST