Community Conversations Series
How Are We Doing?
COVID-19 Pandemic in Beaver County
USE HEADPHONES FOR BEST LISTENING
Podcast: Play in new window | Download | Embed
Choose where to listen and subscribe: Google Podcasts | Email | RSS | More
On episode 2 of the Listening Library: Beaver County Podcast, we launch our Community Conversations Series with Rev. Herb Bailey II, Dani Brown, John Leonard, and Shania Taylor.  During the COVID-19 pandemic in Beaver County, we ask the question: How are we doing?
Listen as they describe how their lives have changed, what they are going through – physically, emotionally, and spiritually – and where they've drawn inspiration from the kindness of others.

These stories will be archived with the Listening Library: Beaver County – a special community multimedia collaborative project that captures, preserves, and shares the voices and stories of our time.
This episode was recorded April 4, 2020 via Zoom internet conferencing in Beaver County, Pennsylvania.  Hosts: Kevin Farkas, Erin Ninehouser, and Christopher Padgett.   Guest: Rev. Herb Bailey II, Dani Brown, John Leonard, and Shania Taylor. Audiography: Kevin Farkas. Music (available on SoundCloud.com): Threshold of Faith ("When the Wind Is Southerly, I Know a Hawk from a Handsaw"), "Acoustic Instrumental." Other sounds (available on YouTube.com): TEYL Channel ("TEYL – Keep Listening Active"),Tara Brach ("Listening with an Awake Heart, Part 1A"), Benjamin Cogswell ("Listening and Speaking: Taking Turns"), Nurse Killam ("Shut up and Listen – Make the world a better place!"), Bushfire Press ("Listening Room – Liberty Bell March music appreciation lesson"), Steubenville Conferences ("Fr. Boniface Hicks, OSB – Compassionate Listening, 2019 PDS Retreat"), ICNA ("Listening to People's Voices – A Must for Unity by Naeem Baig | ICNA-MAS Convention 2018"). Other sounds (available on the LLBC Podcast): What is a Story? Montage, Beaver County History Podcast, Episode 16 ("Christopher Padgett: Beaver County Stories"). Herb Bailey Poetry, LLBC Podcast, Episode 01 ("This. Is. My. Story.").  ©LLBC Podcast/ Listening Library: Beaver County, The Social Voice Project.  All rights reserved.
---
COMMUNITY VOICES
Pastor Herb Bailey, Executive Ministry Director for Uncommon Grounds Café, whose mission is to "walk with people from isolation to community." With strict social distancing guidelines, Herb is working to find new ways to help "the least of these" hardest hit by the crisis.
Herb reminds us take care of our mental health and spiritual lives during this time when we can't gather in person, using technology like video chat services to connect with friends, family, and fellow parishioners and, taking the necessary precautions like wearing a face mask and maintaining at least 6-feet distance, to volunteer to help deliver groceries to neighbors in need.
Dani Brown, Public Safety and Health Reporter at the Beaver County Times, who has been working overtime to educate the public about the outbreak and document its impact on our county's residents.
Dani encourages us to remember, when you hear someone decry "the media" or "bias" that journalists are your neighbors – people who live, worship, and love your community and who do their best to report the facts, clearly and accurately. Covering loss and tragedy takes a toll on journalists, but they are committed to informing the public. They also like to report "good news" and hope you'll send those stories in too!
John Leonard, a volunteer at Faith Restorations Food Pantry in Monaca, which has seen a huge spike in demand since mid-March when non-essential businesses closed as part of an effort to slow the spread of the virus.
Faith Restorations Food Pantry needs our help! Volunteers for shifts packing and distributing food, as well as donations of food are needed to help meet increasing needs. The pantry is located at 186 Wagner Road, Monaca, PA 15061. Call to confirm hours and tasks for volunteer shifts: (724) 384-8926 and mention that you learned about it through John Leonard.
Shania Taylor, a Certified Nursing Assistant at Brighton Rehabilitation Center, which is struggling to contain an outbreak of the virus that has killed eight residents and infected 43 others. Shania is one of 10 employees that have tested positive and is currently recovering at home. She serves as Secretary-Treasurer for SEIU Healthcare PA in Beaver County.
Brighton Rehabilitation Center residents are feeling isolated, with visitors prohibited and normal activities on hold while physical distancing rules are in place to contain the outbreak. Shania says that homemade cards and heartfelt notes can lift the residents' spirits and help them know that they're not forgotten.
---
LLBC PODCAST
The LLBC Podcast is a special audio project produced by The Social Voice Project for the Listening Library: Beaver County, a multimedia collaborative and developing archive of recorded stories, conversations, and photographs that explore, share, and reveal Beaver County's historic heritage, social diversity, creativity, environmental richness, and community spirit.
---
LISTENING LIBRARY: BEAVER COUNTY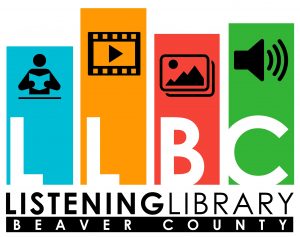 The Listening Library: Beaver County is a collaboratively produced multimedia archive of stories, conversations, and photographs that explore, share and reveal Beaver County's historic heritage, social diversity, creativity, environmental richness, and community spirit.
LLBC tells stories that challenge community stereotypes of people and places; celebrate the dignity and value of individuals by raising up Beaver County voices and visions; support communities' efforts to achieve justice and equity and solve their own problems in their own ways, and raise up voices that are unheard or overlooked.
---
More Community Podcasting

Let's keep community podcasting alive!  If you like this podcast, please help us continue this great entertaining and educational program.  Show your support by making a financial donation, underwriting the podcast, or advertising your business or service on the show. Donate now or contact us about sponsorships and advertising.