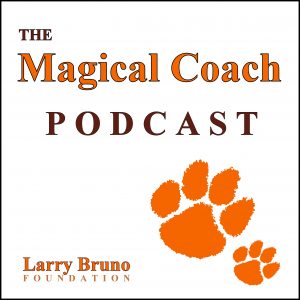 ABOUT THE PODCAST
The Magical Coach Podcast is hosted by the Larry Bruno Foundation and features stories and community profiles of great coaches and student athletes.  For more, visit The Magical Coach website.
The Larry Bruno Foundation is a non-profit organization located in Beaver Falls, Pennsylvania.  Its mission is to cultivate a culture in our community to develop student athletes and academic achievements by promoting professional coaching, team building and family development.
Contact The Magical Coach Podcast
Larry Bruno Foundation | 20 Fort Duquesne Blvd, One Gateway Center Suite 1450, Pittsburgh, PA 152227 | (724) 827-8841
---
EPISODES
---
OTHER WAYS TO FIND THE PODCAST
---


SUPPORT LOCAL HISTORY
Let's keep local history alive for future generations!  If you like our podcast, please help us continue this great educational program for today and tomorrow.  Show your support by making a financial donation, underwriting the podcast, or advertising your business or service on the show. Donate now or contact LBHS member and podcast host Dave Holoweiko at lbhs1882@aol.com or dholoweiko@gmail.com.