Andrew Madeyski | Polish Immigrant
Podcast (alle-kiski-chronicle): Play in new window | Download | Embed
Choose where to listen and subscribe: Apple Podcasts | Google Podcasts | Email | RSS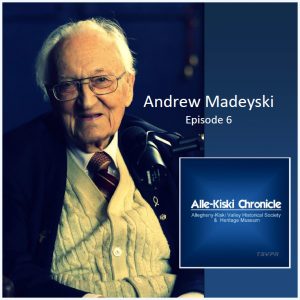 On episode 6 of the podcast, we present our first community member profile, featuring 96 year old Andrew Madeyski of Natrona Heights, Pennsylvania–Polish immigrant and veteran of the Warsaw Uprising.
---
This episode was recorded March 11, 2017 at the Allegheny-Kiski Valley Historical Society and Museum, Tarentum, Pa.  Audiography: Kevin Farkas, Eric Rood.  Music (available on SoundCloud.com): Siren ("Let You Know"), Alexander White  ("What We Saw"), Weeks ("Shoreline").  Other sounds: WW II Polish partisan song ("Rozszumiały się wierzby płaczące.) ©2017 Alle-Kiski Chronicle Podcast/TSVP. All rights reserved.
---
OTHER WAYS TO FIND THE PODCAST
---

---
SUPPORT LOCAL HISTORY
Let's keep local history alive for future generations!  If you like our podcast, please help us continue this great educational program–for today and tomorrow.  Show your support by making a financial donation, underwriting the podcast, or advertising your business or service on the show.