Beaver County History | Thirty-Six BV-9
Podcast (beavercountyhistorypodcast): Play in new window | Download | Embed
Choose where to listen and subscribe: Apple Podcasts | Google Podcasts | Email | TuneIn | RSS
ABOUT THIS EPISODE
On episode 8 of the Beaver County History Podcast, host Scott Reinard talks about the archeological site "Thirty-Six BV-9," Beaver County's world-famous pre-historic discovery buried along the banks of the Ohio River.
This episode was recorded March 17, 2018 in Beaver Falls, Pennsylvania. Host: Scott Reinard. Audiography: Kevin Farkas, Dave Holoweiko. Music (available on SoundCloud.com): Beatbreaker ("Subi"), Rheyne ("Ambient Jam 3"), Josiah Savary (Flight Delays"). ©Beaver County History Podcast/The Social Voice Project, Inc. All rights reserved.
---
ABOUT THE PODCAST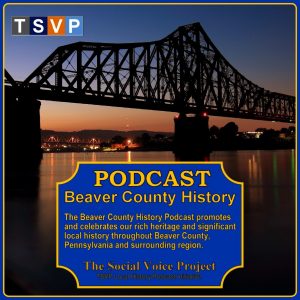 The Beaver County History Podcast promotes and celebrates our rich heritage and significant local history throughout Beaver County, Pennsylvania and surrounding region. The podcast is a production of The Social Voice Project, and is a member of TSVP's Local History Podcast Initiative.
---
OTHER WAYS TO FIND THE PODCAST
---


---
SUPPORT COMMUNITY PODCASTING
Let's keep community-based local podcasting alive!  If you like our podcast, please help us continue this great educational program.  Show your support by making a financial donation, underwriting the podcast, or advertising your business or service on the show. Donate now or contact us about sponsorships and advertising.