Beaver County History | Wallace City
Podcast (beavercountyhistorypodcast): Play in new window | Download | Embed
Choose where to listen and subscribe: Apple Podcasts | Google Podcasts | Email | TuneIn | RSS
ABOUT THIS EPISODE
On episode 7 of the Beaver County History Podcast, host Scott Reinard talks about Beaver County's first great oil boom—and bust—at Wallace City at the dawn of the 20th century.
This episode was recorded March 17, 2018 in Beaver Falls, Pennsylvania. Host: Scott Reinard. Audiography: Kevin Farkas, Dave Holoweiko. Music (available on SoundCloud.com): Beatbreaker ("Subi"), Rheyne ("Ambient Jam 3"), Josiah Savary (Flight Delays"). ©Beaver County History Podcast/The Social Voice Project, Inc. All rights reserved.
---
ABOUT THE PODCAST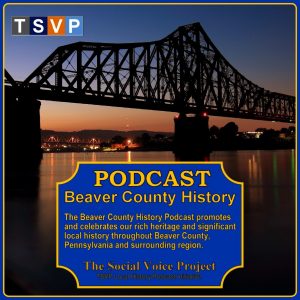 The Beaver County History Podcast promotes and celebrates our rich heritage and significant local history throughout Beaver County, Pennsylvania and surrounding region. The podcast is a production of The Social Voice Project, and is a member of TSVP's Local History Podcast Initiative.
---
OTHER WAYS TO FIND THE PODCAST
---


---
SUPPORT COMMUNITY PODCASTING
Let's keep community-based local podcasting alive!  If you like our podcast, please help us continue this great educational program.  Show your support by making a financial donation, underwriting the podcast, or advertising your business or service on the show. Donate now or contact us about sponsorships and advertising.