Jim Dwyer |102 Minutes
Podcast (live-mike-podcast): Play in new window | Download | Embed
Choose where to listen and subscribe: Apple Podcasts | Google Podcasts | Email | TuneIn | RSS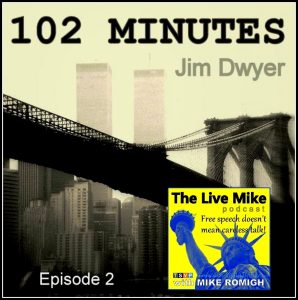 ABOUT THIS EPISODE
On episode 2 of The Live Mike Podcast with Mike Romigh, Mike talks with Jim Dwyer, author of 102 Minutes: The Untold Story of the Fight to Survive Inside the Twin Towers–a riveting collection of eyewitness accounts from inside the twin towers of the World Trade Center during the 102 minutes between the first impact to the second collapse on September 11, 2001.  Also appearing is KDKA investigative reporter Andy Sheehan, whose brother escaped the World Trade Center collapse.
This episode was recorded September 09, 2018 in Beaver Falls, Pennsylvania, with previously recorded content. Host: Mike Romigh.  Guest: Jim Dwyer, with Andy Sheehan.  Audiography: Kevin Farkas, Mike Romigh. Music (available on SoundCloud.com): HarbingerLoops ("Dreary Thoughts," "Raven").  Additional sound: "TSVP Memorial: God May Show You Mercy" (A creative audio memorial and remembrance of the attack on the World Trade Center in New York City, September 11, 2001. Composed in 2010. Featuring the voices of Dan Rather, Tom Brokaw, President George W Bush, Senator Hillary Clinton, Representative Dick Gephardt, Senator John McCain, NYC first responders, Taliban representative, various eyewitnesses). ©The Live Mike Podcast/The Social Voice Project, Inc.  All rights reserved.
---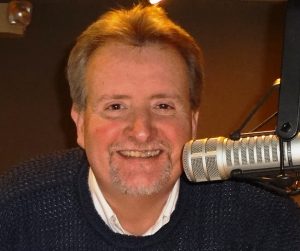 ABOUT THE PODCAST
The Live Mike Podcast with Mike Romigh is an issues-oriented podcast about political life in Western Pennsylvania.  Although his personal views are left-of center, Mike welcomes meaningful conversations about topics from across the political spectrum. Mike Romigh is a noted broadcaster in Western Pennsylvania, with more than thirty years behind the microphone talking politics, sports, current events, local history, and entertainment.
---
OTHER WAYS TO FIND THE PODCAST
---


SUPPORT LOCAL PODCASTING
Let's keep local podcasting alive!  If you like our podcast, please help us continue this great entertaining and educational program.  Show your support by making a financial donation, underwriting the podcast, or advertising your business or service on the show. Donate now or contact us about sponsorships and advertising.