Francis "Frank" Hynds was born in The Bronx, New York City. By his own admission, Frank wasn't a very good student but he was smart enough to know that joining the Coast Guard in the 1950s would be a good job for a kid looking for his start in life.
Serving in the Coast Guard reserves was good duty; Frank was no more than 20-30 miles from his parents' home in New York. But he eventually would serve aboard ship far out in the Atlantic Ocean patrolling for distressed aircraft. Frank would eventually leave the Coast Guard and sign on with the merchant marine service while he attended college.
"All young people should join the military or do some sort of service before they get on with life," Frank contends. "It gives people a chance to mature."
---
ABOUT THIS INTERVIEW
This interview was recorded July 21, 2016 in Bethel Park, Pennsylvania. Interviewer: Todd DePastino. Special Thanks: Frank Hynds, Todd DePastino, Jenn Morgan, Christ United Methodist Church, Bethel Park. A production of the Veteran Voices of Pittsburgh Oral History Initiative. Executive Producer: Kevin Farkas. Videography: Kevin Farkas. Editor: Jon Stile.  ©Veteran Voices of Pittsburgh Oral History Initiative/The Social Voice Project, Inc. All Rights Reserved.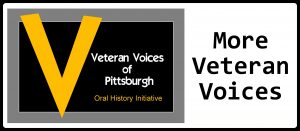 ---
SUPPORT LOCAL HISTORY
The Social Voice Project has been a leader in capturing, preserving, and sharing the experiences and stories of veterans with a Western Pennsylvania connection–from all eras and branches of service.  Please help us continue this important public education program for today, tomorrow, and future generations.  Show your support by making a financial donation, underwriting the project, or advertising your business or service with our program. Donate now or contact executive producer Kevin Farkas at 412-423-8034 or Kevin@TheSocialVoiceProject.org.