Rick Erisman of Pittsburgh, Pennsylvania joined the navy, serving as a radioman from 1969 to 1973. As to why he enlisted in the service after graduating college in North Carolina he admits, "I really didn't know what I wanted to do, but I did want to serve my country." After all, he was inspired his grandfather, who was Adjutant General of Alabama, and many other men in his family who served during WWII.
During the Vietnam War, Rick served with the Atlantic Fleet fighting–if that is how it can be explained–the Cold War by tracking Russian radio traffic from the USS Terrabon Parish (LST-1156). It wasn't glamorous duty, but it was essential in keeping the Soviets in check throughout the Mediterranean Sea and Europe as the America was combating communism in Southeast Asia.
The history and significance of the Cold War can not be understated, and servicemen such as Rick Erisman routinely put their lives on the line with each deployment on the high seas. "I remember watching the Russian navy following us during deployments," Rick recalls. "We never knew what could happen between us and them. So we were always ready for anything."
---
ABOUT THIS INTERVIEW
This interview was recorded April 3, 2017 at the Senator John Heinz History Center, Pittsburgh, Pennsylvania. Interviewer: Kevin Farkas. Special Thanks: Rick Erisman, Todd DePastino, John Paul Deley/Senator John Heinz History Center. A production of the Veteran Voices of Pittsburgh Oral History Initiative. Executive Producer: Kevin Farkas. Videography: Kevin Farkas, Jonathan Stile. ©Veteran Voices of Pittsburgh Oral History Initiative/The Social Voice Project, Inc. All Rights Reserved.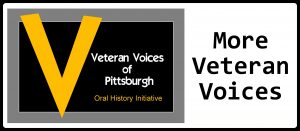 ---
SUPPORT LOCAL HISTORY
The Social Voice Project has been a leader in capturing, preserving, and sharing the experiences and stories of veterans with a Western Pennsylvania connection–from all eras and branches of service.  Please help us continue this important public education program for today, tomorrow, and future generations.  Show your support by making a financial donation, underwriting the project, or advertising your business or service with our program. Donate now or contact executive producer Kevin Farkas at 412-423-8034 or Kevin@TheSocialVoiceProject.org.