Ted Debiak was drafted into the US Army after graduating from Penn State. He served as a combat medic from 1966 to 1968. When Ted arrived in Vietnam at Cam Ranh Bay he was attached to the 4th Infantry Division. "It was hot," he recalls. "So very hot."
Combat medics were individually targeted by the Vietnamese army, but on Christmas Day 1967 Ted was wounded by a blanket artillery attack in which he lost his left arm
"I thought I would be useless after losing my arm," Ted recalls, feeling great pity for himself. But he eventually realized that so many other soldiers had it far worse than he (which he saw firsthand as a medic), and he learned that there was help for him from the Veterans Administration. In fact, after returning home, Ted went on to earn PhD in chemistry and taught at Allegheny Community College for many years.
But one thing always haunted Ted about his wounding; he was never quite sure if the artillery fire was from the enemy or the American army itself. He often wondered if the truth mattered, and after painstakingly researching the battle through army documents, he eventually learned the truth—and it did matter.
---
ABOUT THIS INTERVIEW
This interview was recorded July 29, 2016 in Bethel Park, Pennsylvania. Interviewer: Todd DePastino. Special Thanks: Ted Debiak, Todd DePastino, Jenn Morgan, Christ United Methodist Church, Bethel Park. A production of the Veteran Voices of Pittsburgh Oral History Initiative. Executive Producer: Kevin Farkas. Videography: Kevin Farkas. Editor: Jon Stile.  ©Veteran Voices of Pittsburgh Oral History Initiative/The Social Voice Project, Inc. All Rights Reserved.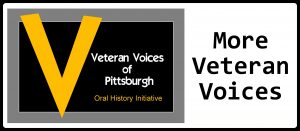 ---
SUPPORT LOCAL HISTORY
The Social Voice Project has been a leader in capturing, preserving, and sharing the experiences and stories of veterans with a Western Pennsylvania connection–from all eras and branches of service.  Please help us continue this important public education program for today, tomorrow, and future generations.  Show your support by making a financial donation, underwriting the project, or advertising your business or service with our program. Donate now or contact executive producer Kevin Farkas at 412-423-8034 or Kevin@TheSocialVoiceProject.org.