William C. King of Pittsburgh, Pennsylvania served with the Army Corps of Engineers in the China Burma India Theater (CBI) during WWII, from 1943 to 1946.
Having survived his experience in Asia, although with a bout of malaria, Bill admits that it was a transformative experience. "We were there to get the job done, and we did. If we didn't know how, we figured it out by trial and error. Our motto in the Corps was, 'The difficult we do immediately. The impossible will take a little longer.'"
After the war, Bill joined thousands his fellow GIs ready to get on with life by furthering their education in colleges across the nation. It was a different experience among the non-veteran undergrads of his pre-war days at Carnegie Tech (now Carnegie Mellon University). The veterans in college after the war were focused, Bill says. They were serious and not there to horse around.
---
ABOUT THIS INTERVIEW
This interview was recorded December 19, 2016 at the Senator John Heinz History Center, Pittsburgh, Pennsylvania. Interviewer: Kevin Farkas. Special Thanks: Bill King, Louise Sturgess, John Paul Deley/Senator John Heinz History Center. A production of the Veteran Voices of Pittsburgh Oral History Initiative. Executive Producer: Kevin Farkas. Videography: Kevin Farkas, Bryan Chemini. Editor: Kevin Farkas.  ©Veteran Voices of Pittsburgh Oral History Initiative/The Social Voice Project, Inc. All Rights Reserved.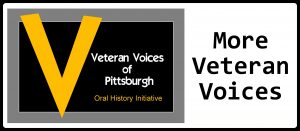 ---
SUPPORT LOCAL HISTORY
The Social Voice Project has been a leader in capturing, preserving, and sharing the experiences and stories of veterans with a Western Pennsylvania connection–from all eras and branches of service.  Please help us continue this important public education program for today, tomorrow, and future generations.  Show your support by making a financial donation, underwriting the project, or advertising your business or service with our program. Donate now or contact executive producer Kevin Farkas at 412-423-8034 or Kevin@TheSocialVoiceProject.org.