There's Always Hope | Bill Silver  
On this episode of Argot: Audio Short Stories from the Veteran Voices of Pittsburgh Oral History Collection, Bill Silver shares a story originally told on October 30, 2015 to the Veteran Voices of Pittsburgh Oral History Initiative in Beaver, Pennsylvania.  This audio short story is engineered and produced by Kevin Farkas.
Podcast: Play in new window | Download | Embed
Choose where to listen and subscribe: Google Podcasts | Email | RSS | More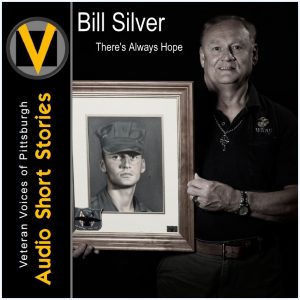 Bill Silver of Beaver County, Pennsylvania served with the Marine Corps during the Vietnam War.  As part of the newly formed Combined Action Force, Bill lived among the Vietnamese people, protecting them from Viet Cong forces.
Like many in combat, the stress of war eventually caught up with Bill—and changed him.  At his lowest point, his anger and rage toward the Vietnamese led him to nearly kill a young boy for stealing food rations.  Shortly afterwards, while cooling off his emotions, Bill miraculously renewed his faith and purpose in life after visiting a Christian orphanage.

---
SUPPORT LOCAL HISTORY
Let's keep local history alive for future generations!  If you like our podcast, please help us continue this great educational program–for today and tomorrow.  Show your support by making a financial donation, underwriting the podcast, or advertising your business or service on the show.