Tony Lavorgne's Legends & Lore Podcast (Ep28): The Pig Lady Festival (2021)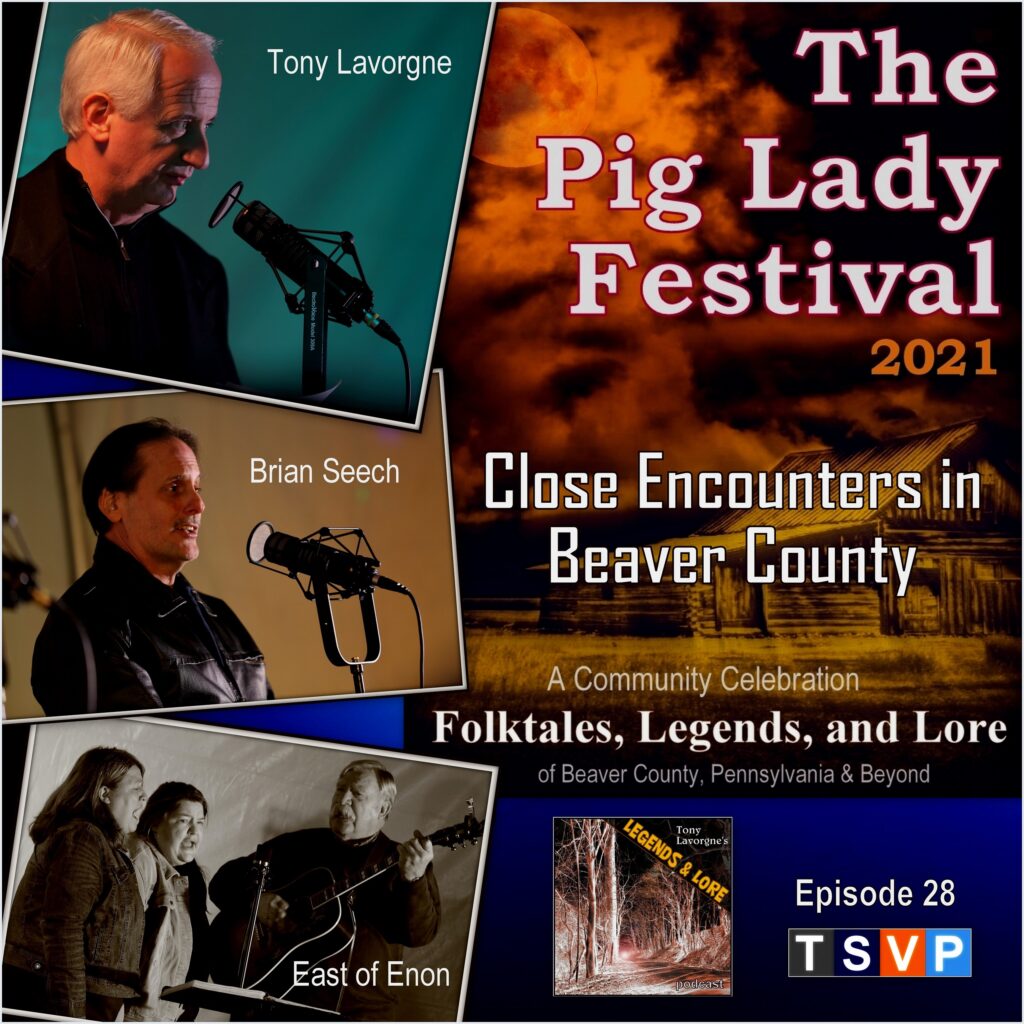 On episode 28 of Tony Lavorgne's Legends and Lore Podcast, we go on-location to New Galilee, Pennsylvania to cover the 2021 Pig Lady of Cannelton Fall Folklore Festival. This year's theme is "Close encounters in Beaver County."
Recorded before a live audience, folklorist Tony Lavorgne explains the nature of local legends and lore, and he recounts the tale of Barbara Davidson, the Pig Lady of Cannelton. Special storytelling guest Brian Seech recounts the world famous 1966 UFO chase from Ohio to Conway in Beaver County, along with other tales of unexplained flying objects in our night skies.  Brian also shares other paranormal tales of bigfoot sightings and more strange encounters throughout Western Pennsylvania.
The Foster Family of Enon Valley, Pennsylvania make up East of Enon, a traditional bluegrass, country, and gospel group that is this year's musical guest.

The Pig Lady Festival is a Fall community celebration of local folklore throughout Beaver County, Pennsylvania and the surrounding region featuring food, games, vendors, musical entertainment, bonfires, ghost stories, and a community movie. 
This episode was recorded October 22, 2021 at the community fair grounds in New Galilee, Pennsylvania. Host: Tony Lavorgne. Special storytelling guest: Brian Seech. Musical guest: East of Enon (The Foster Family). Investigation Team. Featuring the voices of Dave Holoweiko (emcee), Tony Lavorgne, Brian Seech, Dave Foster, Judy Foster. Audiography: Kevin Farkas, Dave Holoweiko. Music (available on SoundCloud.com): Peakfiddler ("2013 fiddle tune melody"), Scary Horror Music ("Haunted"), Healioid ("Arid"). Max Crikey ("Destiny Master"). Additional sound (available on Youtube): "This Concludes Our Broadcast, 2008 — Humanity's last moments caught on tape." ℗©Tony Lavorgne's Legends & Lore Podcast/The Social Voice Project. All rights reserved.