Local History: The Musical
When Hamilton hit the Broadway stage, not only did it become a celebrated musical, it also inspired a renewed interest in American history. The show is based on historian Ron Chernow's biography of Alexander Hamilton, but creator Lin-Manuel Miranda brings history up to date with hip hop, R&B, pop, soul, and traditional show tunes.  The musical also casts history's actual players using a variety of color-conscious roles (i.e., non-white), pushing the boundaries of traditional historical representations.
Of course our Founding Fathers were not black, but Hamilton's modern method of storytelling strikes after something beyond traditional storytelling. Hamilton is meant to be a transformative theatrical experience–one that invites audiences to reflect upon the world and history–as it is today.  Transformative theater uses art and imagination to move audiences toward new forms of remembering and rethinking history, connecting the past with the present.
Transformative stage work "invites us to reclaim the theatre of our lives as a space of agency," writes innovative performer Rami Mani in Kosmos. "It resents the world as it is today: terrible, tragic, and tremendously ripe for transformation. It rekindles the immensity of our human compassion and awakens the farthest expanses of our imagination." Transformative theater calls upon us to "express and enact what the present moment demands and what the future calls forth from each one of us."
RELEVANCE
Public historians might recognize this in their own work as touching upon the all-important issue of historical relevance.
Through ways of modern storytelling (music, staged performance, creative role playing), Hamilton the musical bills itself as the story of America then, as told by America now.  We see and hear ourselves on stage, and the experience entices us to think of ourselves on stage, in the story.  This act of identification helps bring us into history, transformed from passive theater viewers to active history thinkers:  What if that were me?  How would I react?
Indeed, public historians and educators have recognized the importance of Hamilton as a powerful pedagogical tool. In "How Teachers Are Using 'Hamilton' the Musical in the Classroom," KQED News reports that "Hamilton is especially galvanizing for the student who believes that stories about 18th century America are distant and irrelevant" as it shows the Founding Fathers were real humans with real feeling and real flaws, rather than "bloodless, two-dimensional cutouts who devoted their lives to abstract principles." In Newsweek's "'Hamilton,' The Biggest Thing on Broadway, Is Being Taught in Classrooms All Over," Zach Schonfeld writes, "A high school teacher from the Bronx noted his students were 'singing these songs the way they might sing the latest release from Drake or Adele.'" The website EducationWorld says Hamilton is "being praised for its revitalization of interest in civic education."  The musical also inspired Northwestern University to create interdisciplinary course work around the play.  Moraine Valley Community College began hosting panel discussions to discuss how the musical relates to current events.
When theater and history education come together to function on this level, the entire experience is transformational–creating the conditions that turn big history topics into personally relevant and meaningful understandings and insights into the past and present.
LIFE STORIES AS ART AS HISTORY
There's no reason to believe that the power of transformative theater is only about history's major events and characters.  The art form can also be applied to local history, as is done currently with the Off-Broadway play, Coal Country. 
Coal Country is not a Hamiltonian musical extravaganza, but it does incorporate live music into its documentary-style account of the worst American mine explosion over the past half century.  The show presents the stories of survivors and family members recounting the accident as well as its aftermath.
"At the very beginning of the new play Coal Country, we are told it is "a West Virginia story about 29 men and a big machine." This is an understated way to inform the audience that what follows will be devastating."
~Elisabeth Vincentelli for New York Times
The Upper Big Branch Mine incident happened on April 5, 2010 in Raleigh County, West Virginia.  At nearly 1,000 feet underground at Massey Energy's Upper Big Branch coal mine, thirty-one miners were injured during a coal dust explosion.  Twenty-nine miners were killed, making it the worst coal mine accident in the United States since 1970.  An investigation found Massey Energy directly responsible for the disaster.
The tragedy remains painful and controversial for West Virginians.  Its significance drew the attention of playwrights Jessica Blank and Erik Jensen, veterans of "documentary theater." In 2000, their highly acclaimed play, The Exonerated, featured the stories of six wrongfully-convicted death row inmates, in their own words.
Similarly, most of the dialogue in Coal Country comes straight from interviews with survivors and family members.  In this play, however, Blank and Jensen include singer-songwriter Steve Earle on stage to help tell the story.  As in Hamilton, music draws the audience into the performance.  As Earl puts it, "A song is a pretty unique, effective way of saying things that are hard, because the music sort of helps you assimilate it in a way that almost nothing else does."
In an interview with NPR, the Coal Country's creators all believe in the transformative power of music and documentary theater to connect with audiences–especially around empathy.  In this case, audiences are feeling the pain, hurt, anguish, and anger of those who experienced the disaster first hand.
Earl recounts, "The first thing [the interviewees] said to Jessica and Erik was, 'Those people' — talking about a theater audience in New York — 'are gonna think we're stupid.'  And they're not. They're just in West Virginia. And the thing I'm proudest of is I'm watching these audiences empathize with these people that otherwise I don't think they would ever be able to relate to."
Jessica says that this type of storytelling (true stories revealed through live theater) has a powerful effect on audiences, reaching people in "really unique and powerful ways." There's emotional impact in real stories told about real people.  As Tim Teeman writes in the Daily Beast, "The characters unpeel the story direct to us."
Listen to this NPR radio feature about Coal Country
More about the origins of Coal Country and the power of story
---
OUR POSITION
Public historians should take note of the importance of first-person accounts of lived experiences.  Whether they are verbatim scholarly accounts or stylized artistic productions of documentary or musical theater, oral histories do not have to be dull, dusty, musty relics buried deep in museum archives. They should be recognized for what they really are: living history.
Public historians should step up their efforts to capture, preserve and share oral histories 
Local museums and historical societies should become living history centers in their communities
Public historians should consider incorporating theater into their programming as a way to reach new audiences in different ways
At The Social Voice Project, we contend that historical voices and stories remain alive and relevant through recording media (e.g., audio and video).  However, live theater also presents us with innovative and creative ways to bring history to life.  Hamilton and Coal Country not only demonstrate the powerful potential of theater, but they demonstrate the art form's profound ability to humanize history.  On episode 3 of the TSVP Radio Theater Podcast, we present our 2018 History Radio Show: Soldier, Come Home! — a Civil War play for voices by Frank W. Wicks recorded and performed before a live audience on September 21, 2018 at the Merrick Art Gallery in New Brighton, Pennsylvania.
Soldier, Come Home!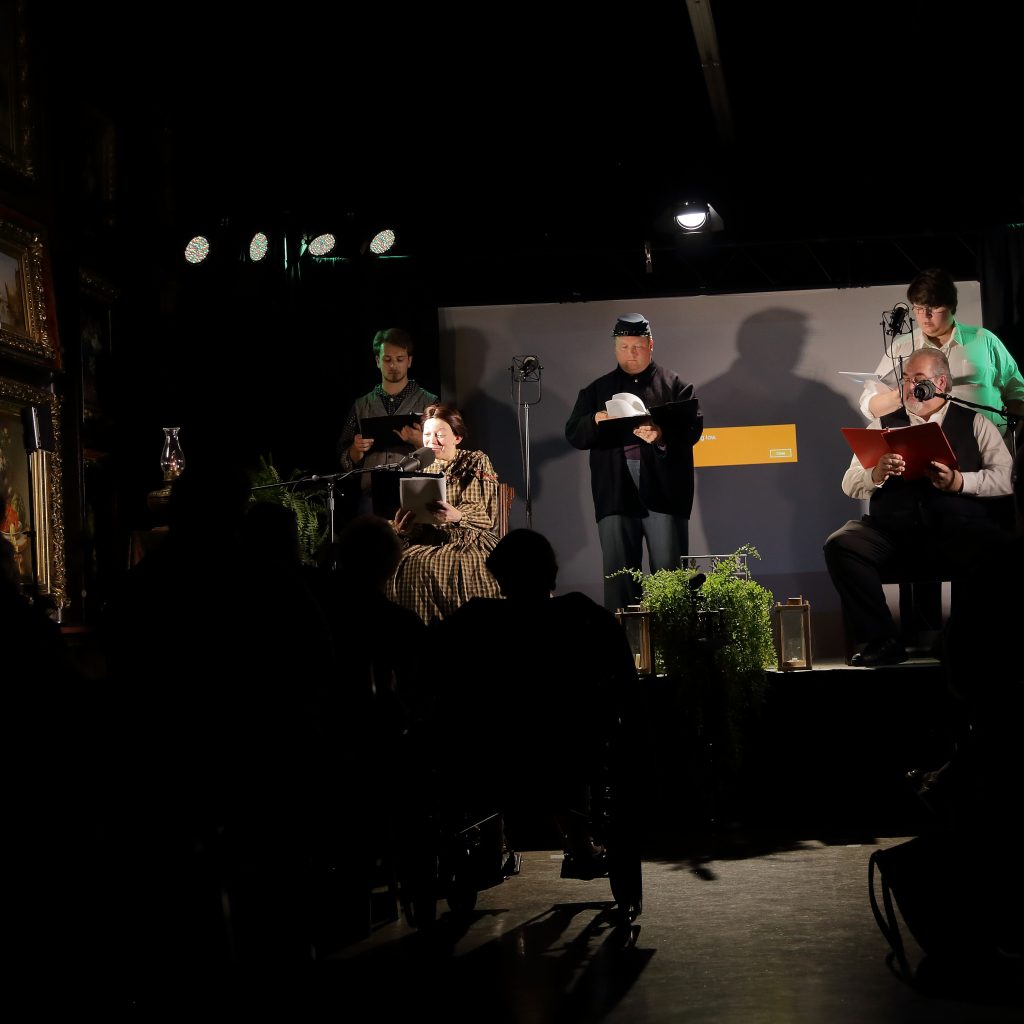 ---
PUBLIC HISTORY MATTERS
At The Social Voice Project, we celebrate history and people through our community oral history projects that give us a chance to look, listen, and record the voices and stories of our time.  We encourage all local historical societies and museums to capture, preserve, and share their communities' lived experiences, memories, customs, and values. Future generations are depending on it.
Contact TSVP to learn more about our commitment to public history and community oral history projects.
---