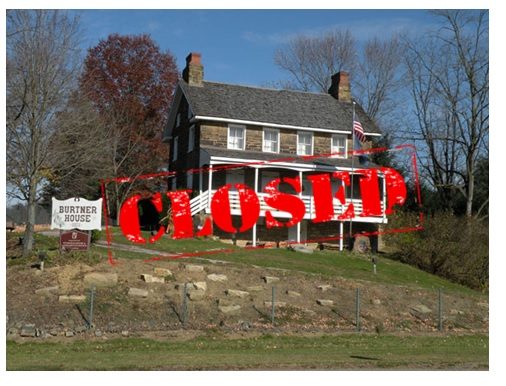 Hold on, it's not closed yet! But on the verge of its 200th anniversary the historic Burtner House near Natrona Heights is struggling to stay open to the public.
Like so many small historical sites such as local history museums and community heritage societies, the Burtner House faces challenging times due to a lack of public interest in local history (especially by younger generations) and dwindling financial support from government agencies, philanthropies, and community businesses and visitor-patrons once generously appreciative of local history programs.
But as Joyce Hanz reports for the Tribune-Review (see video below), this historic site just twenty-five miles from populous downtown Pittsburgh is suffering from a near fatal lack of volunteers.  Hanz calls the situation "alarming," and so do the handful of elderly volunteers who maintain the site.
"We are in danger of having to close the doors," laments Sandy Jack, who serves as Burtner's Restoration Society secretary.  With fewer than ten active members, the group wonders how they can keep the home properly maintained and safe for public visitation.
Hanz's video is filmed on site with a handful of Burtner volunteers who plead for help. Trigger warning: It is a desperate plea–very difficult to watch for anyone passionate about local history.  Perhaps most painful is the sad reality that too many other local history organizations are in dire trouble, barely able to exist on razor-thin resources and community support.  And the public hardly notices.
To keep the lights on, many organizations first cut back on educational programs and essential curation services such as proper preservation techniques.  Then staffing gets scaled back.  Volunteers are given little training or guidance.  Operating hours are curtailed.  Days open slim down to three, two, then one day a week, maybe one weekend a month.  Budgets for utilities and groundskeeping are downsized.  A leaking roof goes unattended. A broken window pane is left unanswered.  Maybe, just maybe, the protective property insurance bill goes unpaid for a month or two.  And finally, a responsible board of directors decides to shutter operations altogether.
"They don't have anything to do with us. It would be nice if they showed more of an interest in the house."
~Sandy Jack, Burtner House Restoration Society 
A recent study by the Institute for Museum and Library Services shows that Americans are 50% less likely to visit history museums today as compared to the 1980s.  Surprisingly, the report shows that younger people still visit museums more often than older people.  However, as people age they tend to feel less engaged by museums and they visit less often.
This lack of public engagement is a serious problem for museums, says Bob Beatty in his article, "Running the Numbers on Attendance at History Museums in the US."  Engaging visitors throughout their lives—from youth through old age—is far more important for museums than we can imagine.  Constantly engaging visitors is an investment or an insurance policy.  Cultivating a public support system that appreciates public history pays off over time.
IT'S ALWAYS A MATTER OF VALUE
Beatty also contends, when museums fail to engage their visitors they are simply not providing "what their audiences most want and/or value."  And that, we assert as public historians, is to be educated, entertained, and inspired by history.  If local museums do not engage the public in such a way–especially in the age of digital media–they risk being cast into the shadows and forgotten.
If museums do not place concerns about public engagement at the top of their strategic planning goals, the consequences will be dire.  The next step, of course, is moving toward action by creating innovative, public facing, forward thinking outreach programming, perhaps with the aid of digital media.  For example, as part of its Local History Podcast Initiative, The Social Voice Project of Beaver County produces customized museum-driven audio programming that has been heard in more than 80 countries around the world.
And TSVP's new Digital Media Museum Tour Service creates self-guided, autonomous, visitor-centered activities for small museums using internet technology.  At select "tour stops," visitors use their mobile devices to access audio-visual narratives about exhibits or points of interest.
What does public engagement and outreach have to do with Burtner House's desperate search for volunteers?  Everything.  Volunteers are motivated by a sense of purpose and value in what they do.  It's up to Burtner House, then, to educate, entertain, and inspire prospective volunteers. Tell us your story.  Why should we care about the museum?  Beyond mowing the grass or dusting exhibits, why should we volunteer? Engage and inspire us!  (By the way, we appreciate the way Joyce Hanz crafted her video to assist the Burtner House volunteers; it goes above and beyond what we expect from these journalistic video shorts).
Of course, we understand and value the tremendous work volunteers do at Burtner House and other local history sites throughout Western Pennsylvania, but does the public?
---
This post is inspired by With 200th anniversary looming, Burtner House preservationists wonder if it'll make it (by Joyce Hanz of The Tribune-Review) and Running the Numbers on Attendance at History Museums in the US (by Bob Beatty).
---
PUBLIC HISTORY MATTERS
At The Social Voice Project, we celebrate history and people through our community oral history projects that give us a chance to look, listen, and record the voices and stories of our time.  We encourage all local historical societies and museums to capture, preserve, and share their communities' lived experiences, memories, customs, and values. Future generations are depending on it.
Contact TSVP to learn more about our commitment to public history and community oral history projects.