Romigh Ramblings 
Podcast (live-mike-podcast): Play in new window | Download | Embed
Choose where to listen and subscribe: Apple Podcasts | Google Podcasts | Stitcher | Email | TuneIn | RSS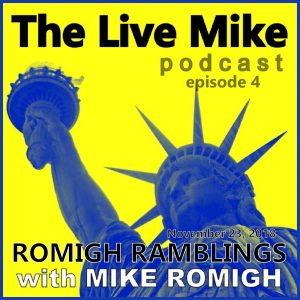 ABOUT THIS EPISODE
On episode 4 of the Live Mike Podcast with Mike Romigh, Mike presents a new feature called, "Romigh Ramblings," a hard-hitting exposition on current news and events.  This episode features Saudi favoritism, selling out the Medal of Freedom, environmental plagues, self-checkout kiosks, and Mike's take on the Catholic Church cover up.
This episode was recorded November 23, 2018 in Beaver Falls, Pennsylvania. Host: Mike Romigh.  Audiography: Kevin Farkas, Mike Romigh. Music (available on SoundCloud.com): Patrick Deluxe ("06 Fortunate Son H1 Matias 4-bar Drum Loop"), HarbingerLoops ("Dreary Thoughts").  Additional sound (available on Youtube): "Edward R. Murrows final reply to Senator Joseph McCarthys See It Now appearance – April 13 1954."  ©The Live Mike Podcast/The Social Voice Project, Inc.  All rights reserved.
---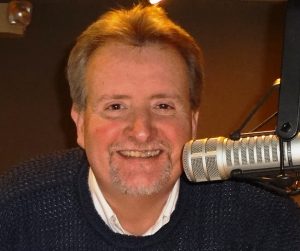 ABOUT THE PODCAST
The Live Mike Podcast with Mike Romigh is an issues-oriented podcast about political life in Western Pennsylvania.  Although his personal views are left-of center, Mike welcomes meaningful conversations about topics from across the political spectrum. Mike Romigh is a noted broadcaster in Western Pennsylvania, with more than thirty years behind the microphone talking politics, sports, current events, local history, and entertainment.
---
OTHER WAYS TO FIND THE PODCAST
---


SUPPORT LOCAL PODCASTING
Let's keep local podcasting alive!  If you like our podcast, please help us continue this great entertaining and educational program.  Show your support by making a financial donation, underwriting the podcast, or advertising your business or service on the show. Donate now or contact us about sponsorships and advertising.