Brian Castner | The Walk
On episode 52 of Longest War: The Post-9/11 Veterans Podcast, we talk to former Air Force explosive ordnance disposal officer and bestselling author Brian Castner about classified rumors, being EOD cool, the evolution of IEDs, American ego, and acceptance of violence and grief.
(This episode contains explicit language or subject matter)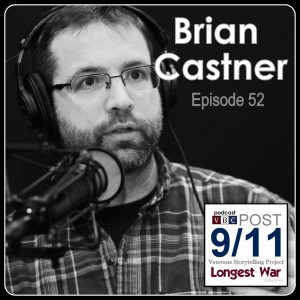 ABOUT THIS EPISODE
Brian Castner is former Air Force EOD officer and combat veteran of the Iraq War. He is a noted author, appearing in the New York Times, WIRED, Esquire, The Atlantic, Foreign Policy, and on National Public Radio.  He is most noted for his war memoir, The Long Walk, which was adapted into an opera and named a New York Times Editor's Pick and an Amazon Best Book.  His other works include Disappointment River, and All the Ways We Kill and Die.
This episode was recorded January 24, 2018 in Pittsburgh, Pennsylvania. Host: Nick Grimes.  Guest: Brian Castner. Audiography: Kevin Farkas/The Social Voice Project.  Music (available on SoundCloud.com): Delta Notch ("Ellie's Song"), Pipe Choir Records ("The Interesting Actual"), Paul Paik ("Mood Indigo").  ©Longest War: The Post-9/11 Veterans Podcast. Veterans Breakfast Club.  All rights reserved.
---
ABOUT THE PODCAST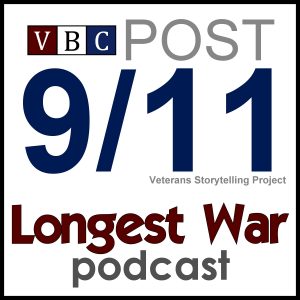 Rather than judge, our aim is to understand the experiences of post-9/11 veterans through their stories, in their own words.  That's why the Veterans Breakfast Club launched its Post-9/11 Veterans Storytelling Project creating communities of listening around post-9/11 veterans and their stories ensuring that their experiences will be shared with and appreciated by the public.  The Longest War podcast is an extension of this effort, featuring stories and conversations with post-9/11 veterans and others with similar experiences.

OTHER WAYS TO FIND THE PODCAST
---
 
SUPPORT LOCAL HISTORY
Let's keep local history alive for future generations!  If you like our podcasts, please help us continue this great educational program for today and tomorrow.  Show your support by making a financial donation, underwriting the podcast, or advertising your business or service on the show.