Timothy Jones | There's Hope
On episode 50 of Longest War: The Post-9/11 Veterans Podcast, we feature a special cross-over presentation of the inaugural episode of the MST Podcast, sponsored by the Veterans Breakfast Club.  Host Lauren DelRicci talks with navy veteran Timothy Jones about his MST experience being raped and suffering the fallout among his peers after reporting the crime.  Timothy shares his powerful story of survival from sinking to the depths of despair, rising with hopefulness, and realizing healthfulness within a community of supportive fellow veterans in Pittsburgh.
(This episode contains explicit language or subject matter)
ABOUT THIS EPISODE
Timothy Jones is a navy veteran and survivor of military sexual trauma.  While stationed in Japan, he was raped by a Marine.  Although Tim reported the crime, his peers hazed and harassed him to the point where he was removed from this duty station and eventually discharged from the navy.  His assailant was eventually convicted and sentenced to six months in the Brig.
In this episode, Timothy shares a powerful story of survival.  From sinking to the depths of despair and then rising with hopefulness, he now realizes healthfulness within a community of supportive fellow veterans in Pittsburgh.  But every day is a struggle, he admits, but through it all there's hope for a better day today than yesterday.
This episode was recorded May 22, 2018 in Pittsburgh, Pennsylvania.  Host: Lauren DelRicci.  Guest: Timothy Jones.  Podcast Producer: Kevin Farkas.  Audiography: Kevin Farkas, Nick Grimes.  Music (available on SoundCloud.com): Panda Dog Music ("The Return of Bossa"), Zom V ("LuvStep 2011 Mini Mix"), 9 Smooth Vibe ("Soul Lounge Mix").  Additional sound (available on Youtube):  Dept. of Defense ("Sexual Assault – Retaliation," "Get Consent"). MST Podcast cover art: Nickie Renee Artistry.  ©MST Podcast/The Social Voice Project, Inc. All rights reserved. ©Longest War Podcast/Veterans Breakfast Club. All rights reserved.
ABOUT THE PODCAST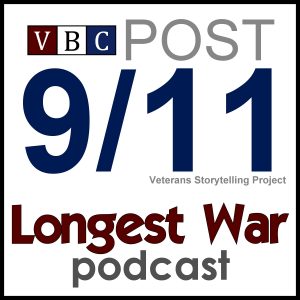 Rather than judge, our aim is to understand the experiences of post-9/11 veterans through their stories, in their own words.  That's why the Veterans Breakfast Club launched its Post-9/11 Veterans Storytelling Project creating communities of listening around post-9/11 veterans and their stories ensuring that their experiences will be shared with and appreciated by the public.  The Longest War podcast is an extension of this effort, featuring stories and conversations with post-9/11 veterans and others with similar experiences.

---


SUPPORT LOCAL HISTORY
Let's keep local history alive for future generations!  If you like our podcasts, please help us continue this great educational program for today and tomorrow.  Show your support by making a financial donation, underwriting the podcast, or advertising your business or service on the show.