Tim O'Brien | Making Sentences Is Hard
On episode 49 of Longest War: The Post-9/11 Veterans Podcast, we talk to Vietnam veteran and noted author Tim O'Brien about memory and truth in war, making sense of absolutes, and how veterans can deal with experience through writing and storytelling.
(This episode contains explicit language or subject matter)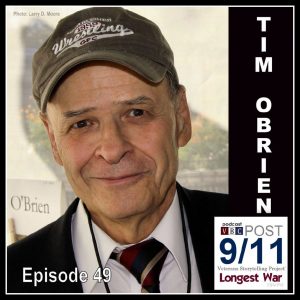 ABOUT THIS EPISODE
Tim O'Brien is best known for The Things They Carried, a collection of short stories based on his experiences serving during the Vietnam War.  He was drafted into the army and served from 1969 to 1970.  Prior to his arrival in Vietnam, his unit had taken part in the infamous My Lai Massacre—an event that profoundly affected his unit's experiences with the Vietnamese people. "We all wondered why the place was so hostile," O'Brien recalls. "We did not know there had been a massacre there a year earlier. The news about that only came out later, while we were there, and then we knew."
O'Brien is the author of several works related to the war, including Box Me Up and Ship Me Home, If I Die in a Combat Zone, and Going After Cacciato, which won the National Book Award for Fiction. He has appeared in numerous documentaries about Vietnam, including Ken Burns' 2017 series, The Vietnam War.
This episode was recorded May 22, 2018 in Pittsburgh, Pennsylvania. Host: Nick Grimes.  Guest: Tim O'Brien. Audiography: Kevin Farkas/The Social Voice Project.  Music (available on SoundCloud.com): Standingwave Master ("101814 traditionalkoreandrumdance"), Alexander White ("Warm It Up"), Jonathan Nield ("Get Them Out"). Other sounds (available on YouTube.com: President Lyndon B. Johnson ("Why We Are in Vietnam"), Movieclips ("Thou Shall Not Kill," from the movie Born on the Fourth of July (1989, Universal Pictures).  Cover photo: © 2012 Larry D. Moore (CC BY-SA 3.0).  ©Longest War: The Post-9/11 Veterans Podcast. Veterans Breakfast Club.  All rights reserved.
ABOUT THE PODCAST
Rather than judge, our aim is to understand the experiences of post-9/11 veterans through their stories, in their own words.  That's why the Veterans Breakfast Club launched its Post-9/11 Veterans Storytelling Project creating communities of listening around post-9/11 veterans and their stories ensuring that their experiences will be shared with and appreciated by the public.  The Longest War podcast is an extension of this effort, featuring stories and conversations with post-9/11 veterans and others with similar experiences.

---


SUPPORT LOCAL HISTORY
Let's keep local history alive for future generations!  If you like our podcasts, please help us continue this great educational program for today and tomorrow.  Show your support by making a financial donation, underwriting the podcast, or advertising your business or service on the show.