Brian & Terrie Seech | Researching the Unexplained
Podcast (legends-lore-podcast): Play in new window | Download | Embed
Choose where to listen and subscribe: Apple Podcasts | Google Podcasts | Email | TuneIn | RSS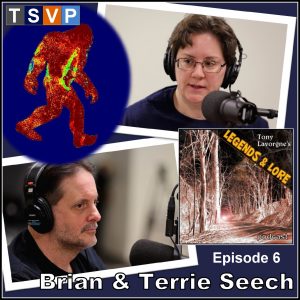 ABOUT THIS EPISODE
On episode 6 of Tony Lavorgne's Legends & Lore Podcast, we talk with paranormal investigators Brian and Terrie Seech and discuss researching unexplained events and creatures using evidence and an open mind.  For over thirty years the Seech family has investigated the paranormal through their Center for Cryptozoological Studies focusing on the study of unknown or hidden animals, and the Center for Unexplained Events gathering local and national research on UFOs, aliens, ghosts, and other strange phenomena.
This episode was recorded March 4, 2018 in Beaver Falls, Pennsylvania.  Host: Tony Lavorgne.  Guests: Brian & Terrie Seech. Podcast Producer: Kevin Farkas.  Audiography: Kevin Farkas, Dave Holoweiko.  Music (available on SoundCloud.com): Dreamy-002 ("Faded"), D'lyxius ("Seven Level Atmosphere'), Naughty Step ("Malhamdale"), Alfred Farrugia ("Weep"), Nouvelle Vague ("44100 – Master").  Additional sound (available on Youtube):  Marlar House ("Bigfoot causes car crash! * And 11 more weird news stories! #DDWN"), "This Concludes Our Broadcast, 2008 — Humanity's last moments caught on tape."   ©Tony Lavorgne's Legends & Lore Podcast/The Social Voice Project, Inc. All rights reserved.
---
ABOUT THE PODCAST
Tony Lavorgne's Legends & Lore Podcast explores the history and tales of ghost stories, mysterious crimes & murders, UFOs, witchcraft, and other occult happenings still thriving in the Greater Ohio Valley region of Pennsylvania, West Virginia, Ohio . . . and beyond.  Specializing in obscure paranormal and anthropological topics, host Tony Lavorgne is an accomplished researcher, author, and public speaker on the subject of local legends and lore throughout Western Pennsylvania, Northern West Virginia, and Eastern Ohio.  He is a contributing writer to Supernatural Lore of Pennsylvania: Ghosts, Monsters and Miracles and co-author of Haunted Roads of Western Pennsylvania.
---
OTHER WAYS TO FIND THE PODCAST


SUPPORT LOCAL PODCASTING
Let's keep local podcasting alive!  If you like our podcast, please help us continue this great entertaining and educational program.  Show your support by making a financial donation, underwriting the podcast, or advertising your business or service on the show. Donate now or contact us about sponsorships and advertising.