Herb Baugh of Pittsburgh, Pennsylvania volunteered to join the army during the Korean War. In those days the military was still segregated, and the experience left a lasting impression on Herb.
Because he had worked on the railroad in Pittsburgh before the war, Herb was placed with the 724th Railway Operating Battalion of the Transportation Military Railway Service (TMRS). At that time, the railroad was the military's main form of ground transportation in Korea. Herb and his unit transported everything from fuel, munitions, and wounded soldiers from the front—another experience that deeply affected Herb for many years.
"When they finally signed the Peace [Accord] and they started bringing back the troops from North Korea, it was as somber a time as when 9/11 hit. It was a serious time. We were grateful the war was over and we [our transportation unit] felt real sorry for our comrades, but we felt very blessed that we weren't exposed to fire or had to kill anybody."
---
ABOUT THIS INTERVIEW
This interview was recorded December 19, 2016 at the Senator John Heinz History Center, Pittsburgh, Pennsylvania. Interviewer: Kevin Farkas. Special Thanks: Herb Baugh, Joan Baugh, Marcia Liggett, John Paul Deley, Senator John Heinz History Center. A production of the Veteran Voices of Pittsburgh Oral History Initiative. Executive Producer: Kevin Farkas. Videography: Kevin Farkas, Bryan Chemini. Editor: Jonathan Stile. ©Veteran Voices of Pittsburgh Oral History Initiative/The Social Voice Project. All Rights Reserved.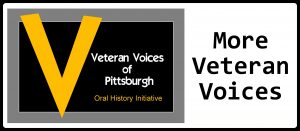 ---
SUPPORT LOCAL HISTORY
The Social Voice Project has been a leader in capturing, preserving, and sharing the experiences and stories of veterans with a Western Pennsylvania connection–from all eras and branches of service.  Please help us continue this important public education program for today, tomorrow, and future generations.  Show your support by making a financial donation, underwriting the project, or advertising your business or service with our program. Donate now or contact executive producer Kevin Farkas at 412-423-8034 or Kevin@TheSocialVoiceProject.org.