When Clarence "Joe" Goritz joined the navy in April 1943 WWII and served with the famed Seabees in the South Pacific, it was a natural occupational fit. After all, Joe comes from a mechanically-gifted family of builders and tradesmen.
"When I came home from the war, I couldn't accept all things that had changed since I went away during the war," Joe says. "It was a change I couldn't believe. My neighborhood was changed! The local store was gone. The ice cream shop was gone. The butcher shop was gone. The streetcars were changed to buses. I just couldn't understand it. And I wasn't with the guys I served with for all that time. I missed those guys.
"When I see these soldiers come home today, they'e alone. I understand it."
---
ABOUT THIS INTERVIEW
This interview was recorded July 29, 2016 in Bethel Park, Pennsylvania. Interviewer: Kevin Farkas Special thanks: Joe Goritz, Margaret Goritz, Todd DePastino, Jenn Morgan, Christ United Methodist Church, Bethel Park. A production of the Veteran Voices of Pittsburgh Oral History Initiative. Executive Producer: Kevin Farkas. Videography: Kevin Farkas, Bryan Chemini. Editor: Jonathan Stile.  ©Veteran Voices of Pittsburgh Oral History Initiative/The Social Voice Project, Inc. All Rights Reserved.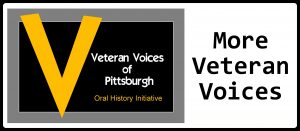 ---
SUPPORT LOCAL HISTORY
The Social Voice Project has been a leader in capturing, preserving, and sharing the experiences and stories of veterans with a Western Pennsylvania connection–from all eras and branches of service.  Please help us continue this important public education program for today, tomorrow, and future generations.  Show your support by making a financial donation, underwriting the project, or advertising your business or service with our program. Donate now or contact executive producer Kevin Farkas at 412-423-8034 or Kevin@TheSocialVoiceProject.org.