Bayonet | Jack Watson  
On this episode of Argot: Audio Short Stories from the Veteran Voices of Pittsburgh Oral History Collection, Jack Watson shares a story originally told on January 7, 2015 to the Veteran Voices of Pittsburgh Oral History Initiative in Pittsburgh, Pennsylvania.  This audio short story is engineered and produced by Kevin Farkas
Podcast: Play in new window | Download | Embed
Choose where to listen and subscribe: Google Podcasts | Email | RSS | More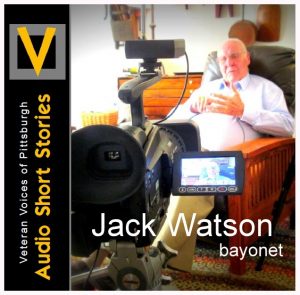 When Jack Watson joined the Marines during WWII, he was trained as a non-combatant radar technician. But when the war in the Pacific needed men with guns on the islands, Jack found himself invading Iwo Jima. It was tough going. Bloody and traumatic. To this day he barely talks about what he saw and had to do to secure the island from the Japanese.

---
SUPPORT LOCAL HISTORY
Let's keep local history alive for future generations!  If you like our podcast, please help us continue this great educational program–for today and tomorrow.  Show your support by making a financial donation, underwriting the podcast, or advertising your business or service on the show.