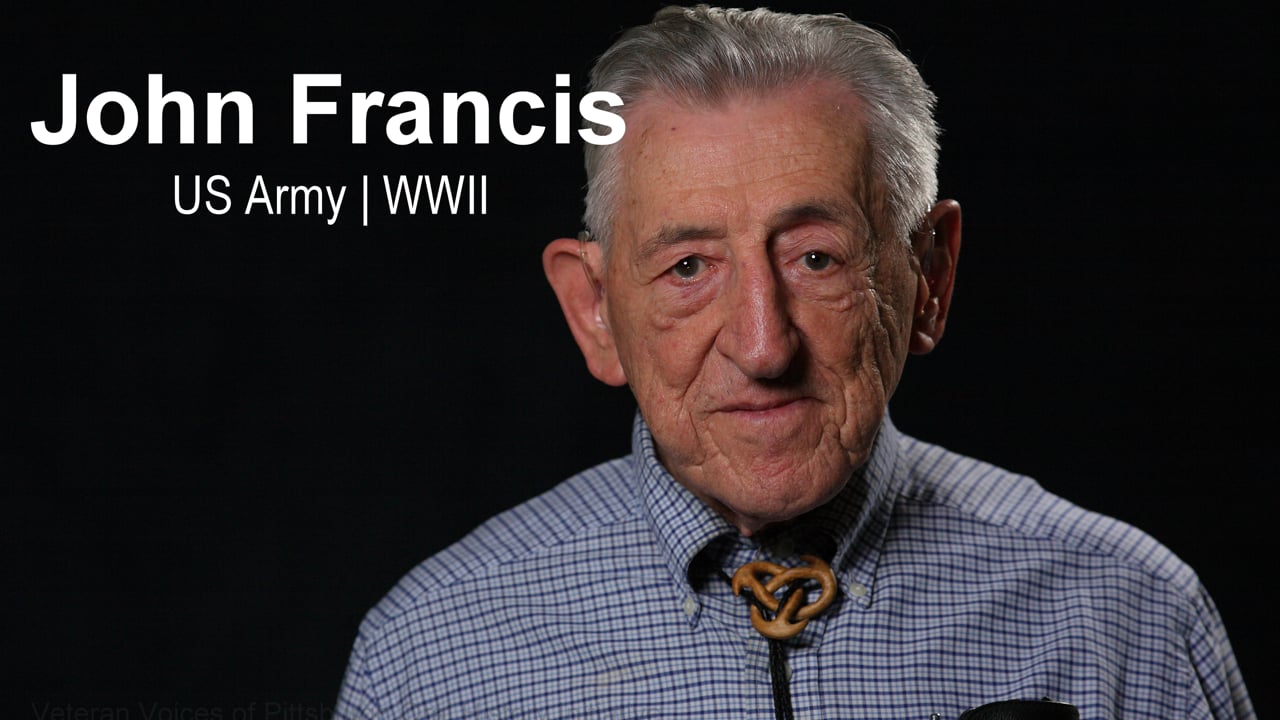 Description:
---
John Francis of Blairsville, Pennsylvania was an engineering student at Penn State during WWII. Sign up to join the army now, an ROTC commander urged him, and he'd get some credit for his schooling before being drafted. It seemed like a deal.
After basic and artillery training, John was sent to aviation school with the Army Air Corps. "That duty was good," he recalls. "As flight officers in training, we were treated very well . . . a lot better than regular army soldiers."
But like so many other aviators-in-training, John was recalled from schooling because the war effort needed fewer pilots and more infantrymen. "That was the worst day of my life," John reflects jokingly. But he admits that in the infantry, they were treated like dogs.
At D+60, John landed at Omaha Beach. He recalls the left-over carnage, and just beyond the bluffs "there were crosses for soldiers almost as far as you could see."
While being transported from Normandy to Italy, John's DC-3 crashed into a mountain. He was badly injured, but he remembers very little about the ordeal after blacking out. Some men were killed. Others barely survived. An eyewitness reported that John repeatedly ran into the wreckage and flames, saving the lives of fellow soldiers. It was an act of bravery for which he was bestowed the Soldier's Medal—an award outranking the Bronze Star as the highest citation for heroism not involving actual conflict with an enemy.
Recorded November 27, 2017 at Seven Oaks Country Club in Beaver, Pittsburgh, Pennsylvania. Interviewer: Kevin Farkas. Special Thanks: John Francis, Bill Moisey, Todd DePastino, Seven Oaks Country Club. A production of the Veteran Voices of Pittsburgh Oral History Initiative. Executive Producer: Kevin Farkas. Videography: Kevin Farkas, Bryan Chemini. Editor: Kevin Farkas. ©The Social Voice Project, Inc. All Rights Reserved.