Andy Nigut | Now I Understand
On episode 54 of Longest War: The Post-9/11 Veterans Podcast, we talk with Vietnam veteran Andy Nigut about becoming a Marine, being severely wounded in combat, learning to hate war, discovering delayed stress syndrome, and welcoming fellow combat veterans home.
(This episode contains explicit language or subject matter)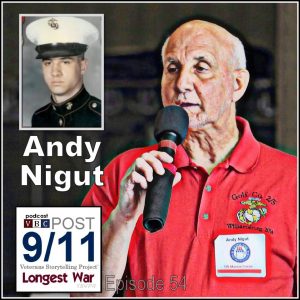 ABOUT THIS EPISODE
When Andy Nigut first saw his face after the wounding, he was horrified.  A Vietnamese rocket propelled grenade had removed nearly 80% of his jaw and most of his teeth.  He breathed through his neck, and his tongue was stitched down.  He couldn't scream, even if he wanted to.  "I was not prepared for what I saw," he now says, after many long years of recovery.
Despite the everyday reminder of the Vietnam War, Andy Nigut holds no animosity to toward his former enemy–their government, yes, and ours. It's almost beyond comprehension, that war, and why so many of our men and women were there, dying and leaving parts of their bodies in a foreign land.
But understanding the plight of his Vietnam "brothers and sisters," as Andy refers to his generation of fellow warriors, is something Andy has made a career of as a veterans counselor–and simply being there for someone else who's "been there" and struggling to make sense of their experiences.
This episode was recorded January 9, 2018 in Pittsburgh, Pennsylvania. Host: Nick Grimes.  Guests: Andy Nigut, with Mary Kay Nigut.  Audiography: Kevin Farkas/The Social Voice Project; recordist: Nick Grimes.  Music (available on SoundCloud.com): Pipe Choir Records ("Response Data"), Delta Centauri ("Page"), Audio_02, J-TRIP ("New Trolla Test"), Subi ("Beatbreaker").  ©Longest War: The Post-9/11 Veterans Podcast. Veterans Breakfast Club.  All rights reserved.
---
ABOUT THE PODCAST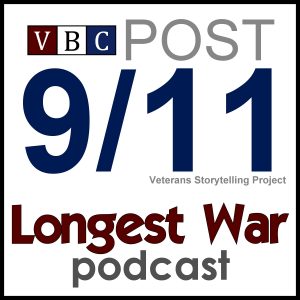 Rather than judge, our aim is to understand the experiences of post-9/11 veterans through their stories, in their own words.  That's why the Veterans Breakfast Club launched its Post-9/11 Veterans Storytelling Project creating communities of listening around post-9/11 veterans and their stories ensuring that their experiences will be shared with and appreciated by the public.  The Longest War podcast is an extension of this effort, featuring stories and conversations with post-9/11 veterans and others with similar experiences.

---


SUPPORT LOCAL HISTORY
Let's keep local history alive for future generations!  If you like our podcasts, please help us continue this great educational program for today and tomorrow.  Show your support by making a financial donation, underwriting the podcast, or advertising your business or service on the show.