Souroth Chatterji | Use of Force
On episode 51 of Longest War: The Post-9/11 Veterans Podcast, we talk to former army medic and combat veteran of Iraq Souroth Chatterji about illegal aliens, easy duty in Iraq, and his thoughts on community policing, the Antwon Rose incident, and the use of force after seven years with the Pittsburgh police.
(This episode contains explicit language or subject matter)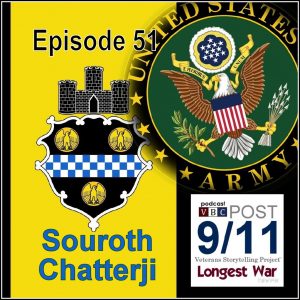 ABOUT THIS EPISODE
Without knowing any English at the age of 12, Souroth Chatterji came to the United States from India with his mother and brother.  He would overstay his visa, technically classifying him as an illegal immigrant, but that didn't stop him from joining the US Army (National Guard) and serving multiple tours as a medic in Iraq.  After returning home and earning a degree from the University of Pittsburgh, he joined the Pittsburgh Police Department in 2012.  After seven years, Souroth resigned from law enforcement to pursue interests in community engagement.
On this episode, we talk with Souroth about his experiences in Iraq and how his deployments were different.  We also talk about the role of veterans in civilian law enforcement, the use of deadly force, community policing, and social justice issues.
This episode was recorded June 28, 2018, 2018 in Pittsburgh, Pennsylvania. Host: Nick Grimes.  Guest: Souroth Chatterji. Audiography: Kevin Farkas/The Social Voice Project.  Music (available on SoundCloud.com): JemB || Ashh Ist ("[Deep Inside] Smooth in a Jazzlander").  ©Longest War: The Post-9/11 Veterans Podcast. Veterans Breakfast Club.  All rights reserved.
---
ABOUT THE PODCAST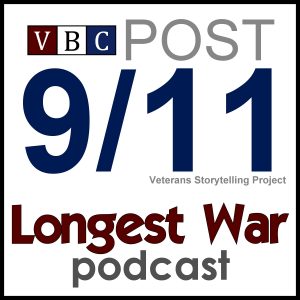 Rather than judge, our aim is to understand the experiences of post-9/11 veterans through their stories, in their own words.  That's why the Veterans Breakfast Club launched its Post-9/11 Veterans Storytelling Project creating communities of listening around post-9/11 veterans and their stories ensuring that their experiences will be shared with and appreciated by the public.  The Longest War podcast is an extension of this effort, featuring stories and conversations with post-9/11 veterans and others with similar experiences.

OTHER WAYS TO FIND THE PODCAST
---
 
SUPPORT LOCAL HISTORY
Let's keep local history alive for future generations!  If you like our podcasts, please help us continue this great educational program for today and tomorrow.  Show your support by making a financial donation, underwriting the podcast, or advertising your business or service on the show.