Mary Fogle-Loveland | Coal Miner's Daughter
Podcast (alle-kiski-chronicle): Play in new window | Download | Embed
Choose where to listen and subscribe: Apple Podcasts | Google Podcasts | Email | RSS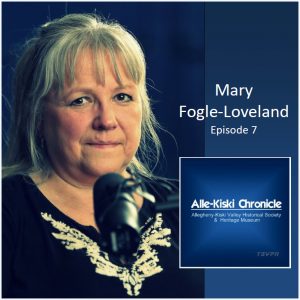 On episode 7 of the podcast we talk with Mary Fogle-Loveland of Cheswick, Pennsylvania about growing up in a coal mining family in the Allegheny River Valley, featuring the voices of Joe and Lucy Fogle.
---
This episode was recorded March 11, 2017 at the Allegheny-Kiski Valley Historical Society and Museum, Tarentum, Pa.  Audiography: Kevin Farkas, Eric Rood.   Music (available on Soundcloud.com): Oceans Violins ("Ima Dreamer"), Alexander White (What We Saw"), Woody McKenzie ("FiveStepsDownharmony").  Other sound: Fogle Family Life Story (Oral history interview by Kevin Farkas/TSVP, 2012). ©2017 Alle-Kiski Chronicle Podcast/TSVP. All rights reserved.
---
OTHER WAYS TO FIND THE PODCAST
---

---
SUPPORT LOCAL HISTORY
Let's keep local history alive for future generations!  If you like our podcast, please help us continue this great educational program–for today and tomorrow.  Show your support by making a financial donation, underwriting the podcast, or advertising your business or service on the show.