Camp Pennsylvania | Josh Galiyas

 

 
On this episode of Argot: Audio Short Stories from the Veteran Voices of Pittsburgh Oral History Collection, Josh Galiyas shares a story originally told on September 14, 2015 to the Veteran Voices of Pittsburgh Oral History Initiative in Pittsburgh, Pennsylvania.  This audio short story is engineered and produced by Kevin Farkas.
Podcast: Play in new window | Download | Embed
Choose where to listen and subscribe: Google Podcasts | Email | RSS | More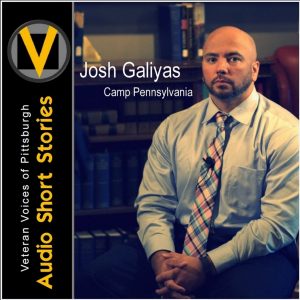 Josh Galiyas of Pittsburgh, Pennsylvania served in the 101st Airborne Division and United States Southern Command from 2001-2008. He was in army basic training during the 9/11 attack and in 2003 he was among the first troops to enter Iraq as part of Operation Iraqi Freedom. While awaiting orders to launch into Iraq from Camp Pennsylvania in Kuwait, Josh's unit was attacked by Army sergeant Hasan Karim Akbar, a Muslim convert who feared that US troops would harm fellow Muslims.

---
SUPPORT LOCAL HISTORY
Let's keep local history alive for future generations!  If you like our podcast, please help us continue this great educational program–for today and tomorrow.  Show your support by making a financial donation, underwriting the podcast, or advertising your business or service on the show.