His Family | Richard Glassbrenner

 

 
On this episode of Argot: Audio Short Stories from the Veteran Voices of Pittsburgh Oral History Collection, Richard Glassbrenner shares a story originally told on June 8, 2016 at the Veterans Breakfast Club in Wexford, Pennsylvania.  This audio short story is engineered and produced by Kevin Farkas of the Veteran Voices of Pittsburgh Oral History Initiative.
Podcast: Play in new window | Download | Embed
Choose where to listen and subscribe: Google Podcasts | Email | RSS | More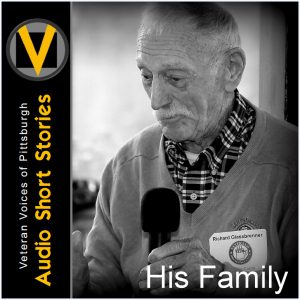 During WWII, Richard Glassbrenner of Pittsburgh, Pennsylvania served as a forward observer and rifleman with the Marine Corps.  Fighting in the Battle of Okinawa, just prior to the Allied invasion of Japan, Richard and his buddy Staub discovered a badly wounded Japanese officer.
After the enemy soldier tried to kill the Americans, he was dispatched by the young Marines.  As Richard and Staub were burying the enemy, Richard found a souvenir that hunted him for years.

---
SUPPORT LOCAL HISTORY
Let's keep local history alive for future generations!  If you like our podcast, please help us continue this great educational program–for today and tomorrow.  Show your support by making a financial donation, underwriting the podcast, or advertising your business or service on the show.