Alle-Kiski Chronicle (Ep07) – Mary Fogle-Loveland
Mary Fogle-Loveland | Coal Miner's Daughter
Podcast (alle-kiski-chronicle): Play in new window | Download | Embed
Subscribe: Apple Podcasts | Android | Email | Google Play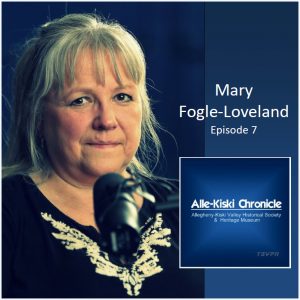 On episode 7 of the podcast we talk with Mary Fogle-Loveland of Cheswick, Pennsylvania about growing up in a coal mining family in the Allegheny River Valley, featuring the voices of Joe and Lucy Fogle.
___________________________________________
This episode was recorded March 11, 2017 at the Allegheny-Kiski Valley Historical Society and Museum, Tarentum, Pa.  Audiography: Kevin Farkas, Eric Rood.   Music (available on Soundcloud.com): Oceans Violins ("Ima Dreamer"), Alexander White (What We Saw"), Woody McKenzie ("FiveStepsDownharmony").  Other sound: Fogle Family Life Story (Oral history interview by Kevin Farkas/TSVP, 2012). ©2017 Alle-Kiski Chronicle Podcast/TSVP. All rights reserved.