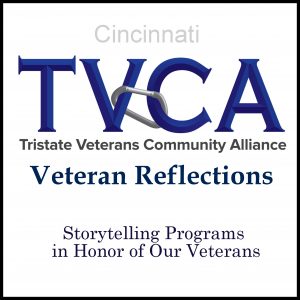 Veteran Reflections is a special podcast of the Tristate Veterans Community Alliance, featuring the stories and experiences of Cincinnati-area veterans.
The Tristate Veterans Community Alliance launched its community-based Veteran Reflections storytelling program in 2016 so that veterans could share their stories with the public, and in turn the public could better understand and appreciate the veteran experience.
TVCA's mission is to better align community support for veterans and their families, especially those that are new to the Cincinnati area. TVCA's vision is that the Greater Cincinnati region is a preferred location for veterans and their families, as well as to make the Greater Cincinnati region a preferred location for former active duty, reserve, and National Guard service members and their families because the employers, veteran support organizations and existing veteran support network are aligned to welcome and seamlessly support them in their transition from military life to becoming active members of the Tristate community.
Tristate Veterans Community Alliance | 800 Bank St, Cincinnati, OH 45214 | Call: (513) 357-2008
Podcast: Play in new window | Download | Embed