Voices and Stories of Public Service
First Responders Series: Firefighters
Jay Delaney, the president of the Pennsylvania Fire
Chiefs
Association testified before lawmakers that the foremost problem facing fire departments is a lack of firefighters. 
Delaney said that there were about 300,000 volunteer firefighters in 1970. Now that number is around 38,000.  
Delaney characterized the firefighter shortage as a crisis for most volunteer fire departments, including right here in Beaver County.
This shortage of firefighters led the Beaver Countian to do a 3-part expose on the dangerously low numbers of firefighters who can respond not only to fires, but traffic accidents, hazardous materials situations, missing persons, water emergencies, weather related dangers, and traffic control needs.  
This leaves residents in Beaver County, throughout the region, and across the state to ask: Who will save us?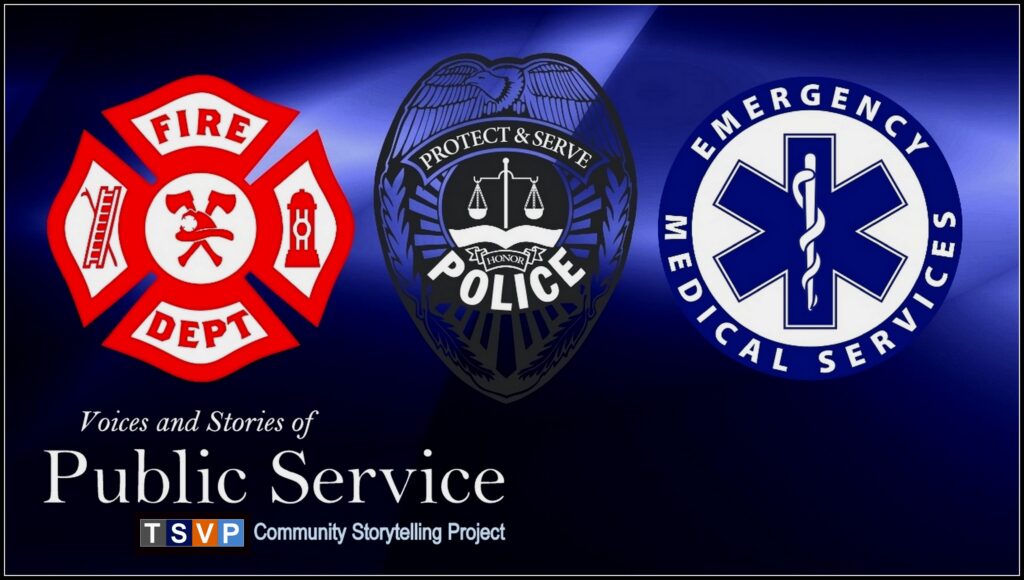 In development now is a special, locally produced series of oral history interviews and recorded conversations with local firefighters to share their side of the story.
TSVP's Community Storytelling Project is an innovative educational digital media initiative capturing, preserving and sharing the voices and stories of those working in a wide range of public service: elected and government officials, educators, public health workers, social workers, and first responders in law enforcement, fire fighting, and emergency medical services.
More First Responder Oral History and Community Story Projects
A sampling of other oral history and community story projects with first responders from around the country. This collection demonstrates a wide variety of oral history methods, techniques, and media quality.

Stephanie Grocholski carries on a family tradition. She's been on the front line for multiple weather disasters this summer.
Deborah Hersman is Chairman of the National Transportation Safety Board and the NTSB spokesperson during the investigation of the tragic August 27, 2006 Comair Flight 5191 accident.
EMS first responders talk about their most memorable patients
In October 2005, The Historic New Orleans Collection initiated Through Hell and High Water: Katrina's First Responders Oral History Project, partnering with local, state, and federal agencies to document their experiences. The interviews done as part of this project reflect the disaster's painful, chaotic, and murky aftermath. They cast a wide net over this important event and reveal many potential avenues for further research . . . 
The fire killed 165 people and reduced a once-glittering cultural attraction to ash. For some, it feels as though it happened yesterday.
On this episode of Inside the FBI, we bring you the story of Supervisory Special Agent Tom Duffy, whose experience as a 9/11 first responder in New York shaped the rest of his career.
THE FIRST PHASE OF THE PANEL DISCUSSION BEGAN THIS YEAR ON MAY 21ST WHEN JULIAN M. SYPHYAX, RETIRED LIEUTENANT, JOINED MEMBERS OF OUR PANEL AS THE JOHN M. LANGSTON CITIZENS ASSOCIATION HOSTED THE CELEBRATION TO RECOGNIZE HALL'S HILL / HIGH VIEW PARK'S FIRE STATION #8 THAT WAS ESTABLISHED AS A VOLUNTEER FIRE DEPARTMENT SERVING OUR NEIGHBORHOOD IN 1918 . . . 
A round-table collection of stories and memories from various fire departments of Caldwell County, North Carolina..
On this week's Humpday Hangout, Frank Ricci and P.J. Norwood talk with guests Robert "R.J." James and Chris Hinde of the Rockville (MD) Volunteer Fire Department about the status of volunteer fire departments. They are joined by Bobby Halton to discuss Rockville's live-in program and how such initiatives can improve recruitment and retention of volunteer firefighters.
This video is an educational video intended to inform the students of Central Valley Schools in Beaver County, Pennsylvania on the several locations in their communities.
The Social Voice Project is an innovative public interest media project specializing in creative, community oriented media production and podcasting partnerships. TSVP is dedicated to capturing, preserving, and sharing the voices and stories of our time through promoting public history,  nonprofit initiatives, and community/cultural projects.  
TSVP was founded in 2010 by Kevin Farkas, an award-winning public historian, audiographer, and media producer.