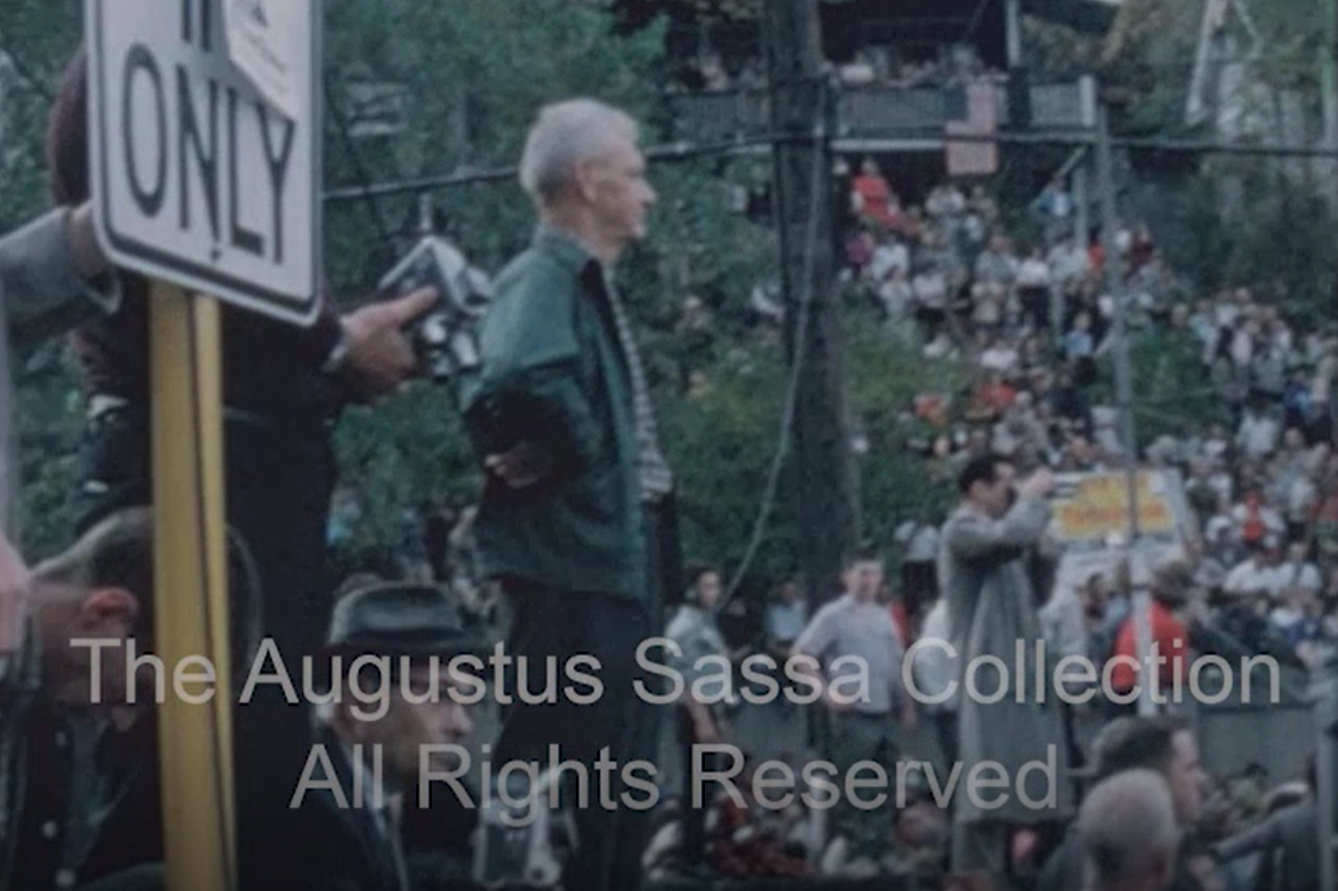 Description:
---
ALCF Augustus Sassa Home Movie Clip7357-50
[
Starting at the 6:04 minute mark]
This footage is in Aliquippa, PA on 10/12/1962 (https://www.jfklibrary.org/Asset-Viewer/Archives/JFKWHP-ST-464-16-62.aspx). There is an enormous crowd of people gathered in the 400 block of Franklin Avenue. The gray building on the left still stands today. (6:12) The police are moving people along as the motorcade arrives, driving up Sheffield Avenue. People are on the far hill observing. The dais is set up on a then-new downtown municipal parking lot. Everyone is having red and green "WELCOME MR. PRESIDENT" pennants as JFK takes the stage. The "PARKING" sign that can be glimpsed at 6:35 is still there today, as of 2017. A large yellow banner for the Beaver County Times (Aliquippa was a part of Beaver County) can be seen. (6:44) JFK takes a seat on the stage as someone begins to speak at the podium (https://www.jfklibrary.org/Asset-Viewer/Archives/JFKWHA-137-001.aspx). (7:03) JFK takes the podium as people clap. He begins his speech. He is standing in front of the Plan 7 housing development. The crowd on the hill behind him is very integrated, quite notable for 1960s Aliquippa. (7:39) Camera pans across the crowd as JFK speaks. (7:56) JFK steps down from the podium. Large group of men on stage shaking hands. (8:33) JFK, in his car, waves to the crowd as the motorcade departs Aliquippa via Sheffield Avenue. After the assassination, the town of Aliquippa changed the name of "Constitution Boulevard" to "Kennedy Boulevard."
Collection Title: Kennedy Home Movies by Augustus Sassa; Original format: 8mm film, silent; Original digital capture (2017): 4k (4093 x 3112) DPX; Running time: Approx. 28min; Circa: 1959-68.