Alle-Kiski Chronicle (Ep06) – Andrew Madeyski
Andrew Madeyski | Polish Immigrant
Podcast (alle-kiski-chronicle): Play in new window | Download | Embed
Subscribe: Apple Podcasts | Android | Email | Google Play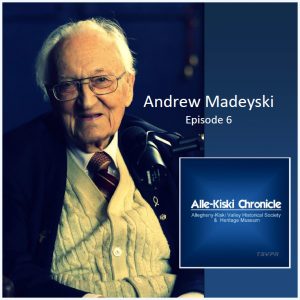 On episode 6 of the podcast, we present our first community member profile, featuring 96 year old Andrew Madeyski of Natrona Heights, Pennsylvania–Polish immigrant and veteran of the Warsaw Uprising.
_______________________________________
This episode was recorded March 11, 2017 at the Allegheny-Kiski Valley Historical Society and Museum, Tarentum, Pa.  Audiography: Kevin Farkas, Eric Rood.  Music (available on SoundCloud.com): Siren ("Let You Know"), Alexander White  ("What We Saw"), Weeks ("Shoreline").  Other sounds: WW II Polish partisan song ("Rozszumiały się wierzby płaczące.) ©2017 Alle-Kiski Chronicle Podcast/TSVP. All rights reserved.